Play of contrasts and celebration of the natural elements are in the core of this new residential project, created by the Mole design studio. Combining Asian simplicity and refine aesthetic ( subtle touches especially visible in the relation with the surrounding natural elements – light, air, exquisite plant life and clear shine) with modern comfort and elegant, stylish design the creators of this urban residence used restrained color palette and dynamic space configuration to achieve spacious and inviting home ambiance.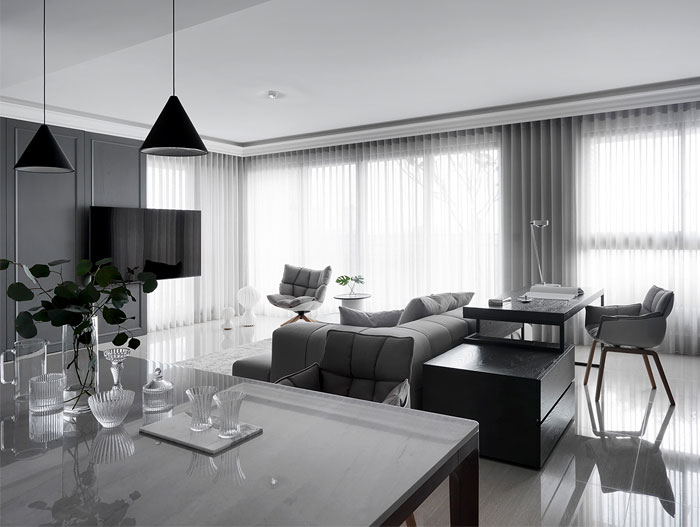 The intriguing contrast of texture and surface is supplemented by the light gray and white color play accentuated by black and charcoal elements. Shining floors (in the living room and bedroom premises) are juxtaposed to soft textures and matted wood structures (like the stylish and dynamic library – working desk construct in the living room).
Trendy design pieces (some of which iconic creations by renowned design brands – like the Patricia Urquiola's chairs and sofa elements in the living room space) are supplemented by interesting details – like the fragile glass decorative elements, the modern shape lamps, and the sculptural design elements.
The calm simplicity of the gray shades composing the interior gives a free space for the decor elements – mainly in glass, ceramic or intriguing textural combinations – that are used to adorn the decor composition and may become heavy in other setting or color arrangement. Shining appliances and details in kitchen, bathroom and social areas give a cutting, modern urban edge to the decor composition.