Mexican food restaurant in Spain: vibrant, colorful, artistic and very inviting – that is the spirit of this decor composition created by Erbalunga Estudio. Based on the notion that food should engage all the senses – with its aroma, texture, and colors the designers chose to capitalize on it while designing Sierra Madre Taquería – the new slow food space in the coastal town of Vigo, Spain.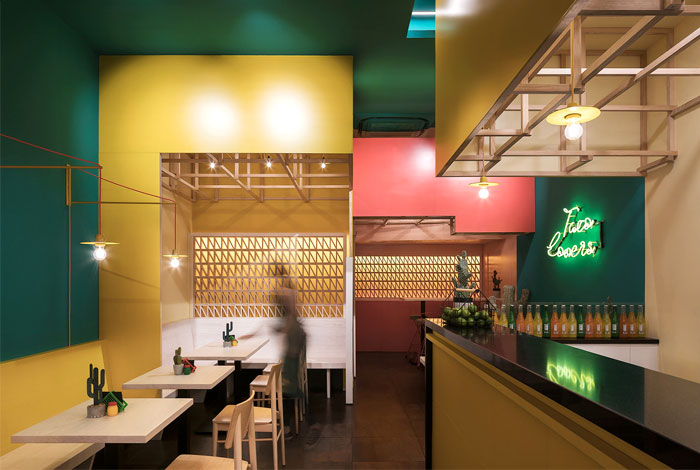 Vibrant colors so characteristic for Mexican culture and atmosphere great the customers upon entering this artistic and cosmopolitan space – a line of multi-colored Jarritos, the Mexican soft drink of choice for taco enthusiasts, is the first thing one encounters on the open bar. They give the color combination base for the space – botanical green, starfish coral of sunny yellow – the colors of the walls entwine to provide spatial sequence and dynamic vibe for the design arrangement.
Alternation of rectangular shapes, voids and solids, and contrasting colors creates a playful, modern ambiance. Although the furniture elements are simple (even delicate as it's the case with the thin metal bar-stools silhouettes adorning the most inner space) the clear, modern lines of the small tables and wall benches in combination with the trendy yet minimalist shapes of the lighting scheme gives the space its dynamic urban feel. This simplicity of shapes and lines in the furnishing lives the color compositions and the beautiful brick structures to play a central role in the restaurant's design.
Using terracotta brick structures (arranged in a tracery fashion) to filter the light migrating through the premises, to create elegant separations or even to compose the facade of the restaurant ( the bar like space at the entrance) the designers introduce modern and dynamic approach towards the space composition. It turns out using this particular artistic technique is quite popular with modern designers when creating new age modern restaurant ambiance – like in the slow food restaurant in Bergamo, Italy created by Aris architects and adorned with a wall of terracotta bricks by Mutina.