A savoir-vivre in perfect harmony is what distinguishes and makes unique the partnership between Fast, Italian outdoor furniture manufacturer, and Alberto Lievore, Argentinian designer based in Barcelona, where, together with Jeannette Altherr, he runs Studio Lievore Altherr.
More specifically, this collaboration started from their shared approach to nature and their way to enjoy it. "The real luxury is time", states Alberto Lievore. "Time we devote to our friends, to ourselves, to contemplating, with nothing more. Nature offers us this space, and we should try to make the most of it". Also for Fast, the fundamental value is being in harmony with our surroundings; this is why many products in Fast's collection are inspired by nature. We have further investigated this partnership, which began in 2017, with its own protagonists: Alberto Lievore and Marco Levrangi, CEO of Fast.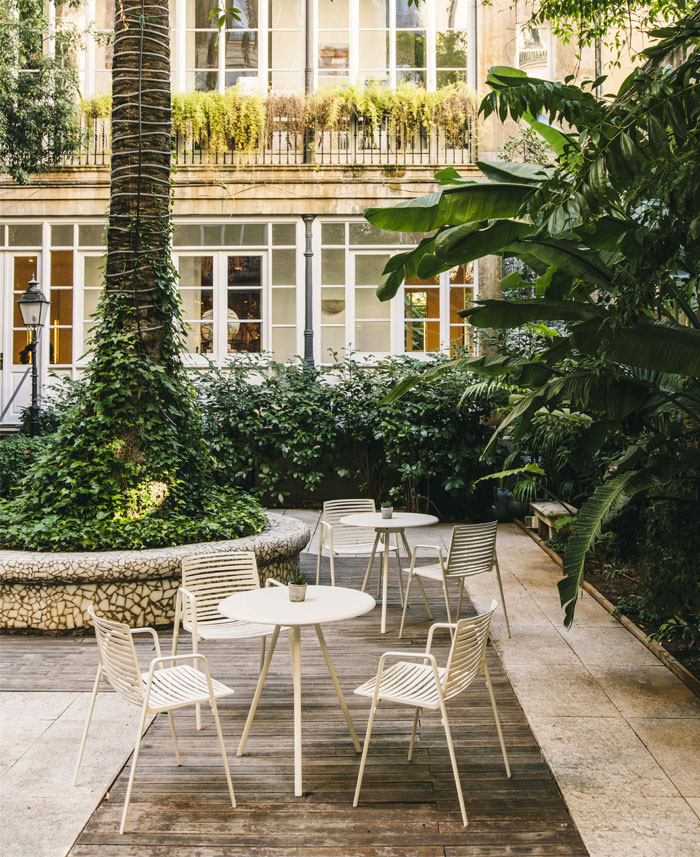 How did the partnership with Fast start?
Alberto Lievore: We met thanks to a collaborator at a trade fair in Valencia. There has immediately been empathy between us, a vital condition to build a shared project.

Marco Levrangi: The collaboration with Alberto Lievore began in 2017. Alberto was very interested in developing a project that addressed the issue of outdoor living and, since the beginning, he demonstrated all his inspiration and transmitted his enthusiasm to us.
Alberto, what was the first product designed for Fast?
Alberto Lievore: We started from a general project, which formed the basis for the development of different products. The first one was Zebra, designed to remain true to Fast's technological tradition as a specialist in aluminium processing, and to create a link between the brand's past and future projects.
Which changes has Studio Lievore Altherr brought to Fast?
Marco Levrangi: We began to devise real collections that would accommodate all possible requirements, consisting of products with various intended uses. In addition to aesthetics, we focused on functionality, opting for a timeless design that concurrently created a strong identity. We gave the utmost importance to the pursuit of innovative materials, while retaining aluminium as the main material. We used a uniform language and a coordinated image to create our identity as a brand.
Alberto, what does designing for a company mean for you?
Alberto Lievore: From an ethical and professional point of view, it means assuming the identity of that company and then reinforcing it through an holistic project that involves all the departments of the company itself.
What is the difference between designing a product for interiors and a product for outdoor use?
Alberto Lievore: The main difference between a product for indoor and a product for outdoor is its performance: on the one hand, we expect warm and welcoming comfort from interior settings; on the other hand, outdoors we seek a cool and airy place where the product blends in with its surroundings and guarantees materials' resistance to extreme and variable weather conditions.
With New-Wood Plan and Zebra Knit, you have introduced innovative materials that are brand new for Fast, a company that specialises in aluminium processing. Why these new materials? Is there a demand from the market? How does this choice fit in with the company's catalogue?
Alberto Lievore: One of the many tasks of design is to improve performance and services. Fast designs outdoor living to all intents and purposes, in all settings and with suitable materials. New-Wood, for instance, is an innovative material obtained from a natural, eco-sustainable fibre which is 100% recyclable, extremely resistant to humidity, to cold, to sunlight and to chlorine: it reproduces the tactile and visual sensations of real wood, but the demanding maintenance required by natural wood is not needed anymore by New-Wood Plan. The same applies to the new fabric used for Zebra Knit: it is particularly hard-wearing and self-supporting, it ensures water drainage and it is resistant to UV rays, breathable and cool, providing comfortable and ergonomic seating and, owing to all these characteristics, it is ideal for outdoor use.
Marco Levrangi: It is definitely a growing need in the market. Our customers require products that are maintenance-free. The new wood-effect material and the high-tech fabric have been devised specifically to accommodate this need. Our clients need to leave cushions outside without having to worry about bringing them indoors. The new materials blend in seamlessly with all the products in the catalogue since the main material still remains aluminium.
Where are Fast's products at their best? In private homes or in contract settings?
Alberto Lievore: Now the contract industry is considered as a "public home" and Fast's products are designed to be functional and to offer services while ensuring ultimate versatility of use, from contract settings to residential venues.

Marco Levrangi: Our products are extremely versatile and suitable for "pure" contract settings such as the hotel industry, as well as street contract and residential environments.
Fast's claim is Outdoor Lifestyle. What is Outdoor Lifestyle for you, and how can Fast convey it to its clientele?
Alberto Lievore: Outdoor living for Fast is not a choice but rather a natural inclination, since the company headquarters are immersed in the nature that surrounds Vestone. In addition, in 2017, Fast inaugurated a new showroom on Lake Garda. It's clear that nature constitutes its starting point and its everyday routine.

Marco Levrangi: Everyday life is becoming increasingly hectic, forcing us to find time for ourselves and intensify our contact with nature. In recent years, living outdoors has become a genuine lifestyle: being out in the open air is good for both mind and body. Especially in large cities where "green" districts are sprouting up, with innovative buildings and large terraces filled with lush vegetation to relax after a hard day's work. The market is demanding to bring living rooms outside, and thus there is the need to relax outdoors just like indoors, with the added benefit of greater well-being.
In your opinion, is there a trend of living outdoor or rather is it a human need?
Alberto Lievore: In my opinion, it's a human need, due to the growing focus on nature. What's more, the evident climate change makes it possible to spend more time outdoors.
Past, present and future of Fast: what can you tell us Marco?
Marco Levrangi: Past: great specialisation in aluminium processing. Focus on the product and on the production thanks to our background in moulds. Industrialisation and technology. Present: growth of the brand thanks to a coordinated communication and a brand image with a strong identity. Production of increasingly complete and versatile collections. Future: enhanced brand recognition. Sophisticated, timeless yet functional design, increasingly aimed at the creation of customized products. Product range expansion to meet all requirements.