How would you like light, summer chill, seamless connection with lush gardens and infinity pool? Take a look at this home project. Possessing some of the typical for the contemporary Brazilian architecture and design features (vast open spaces, wood and concrete, and of course large furniture pieces) this light, modern home located in one of the green neighborhoods of Rio de Janeiro is something worth exploring.
The architects form Desenho Brasileiro took special care that the modern lines of the house do not interject drastically with the surrounding tropical forest and beautiful scenery: green roof, simple clear lined architectural shell that entwines natural materials – alternating concrete, wooden cladding and metal frames – the architect composed a light modern and unintrusive to its surroundings, home. Vast windows, floor-to-ceiling sliding doors, free float in open floor plan exposition secure a seamless connection between the interior and the surrounding gardens and nearing forest.
The ground floor is occupied by the social spaces – open floor plan dining and living room combo. Cozy, functional and modern kitchen and of course the multiple outdoor sitting arrangements; pool, garden and summer kitchen areas all furbished with trendy furniture pieces – most large and comfortable as the modern Brazilian design trend suggests. Simple, stylish and yet quite comfy looking.
The main living room is decided in light color combinations that entwine expressive gray accents (in this count contemporary art paintings and comfy looking modular sofa) with the warmer wooden notes. Most of the space is left free of textures, except the architectural elements of the exposed concrete, wooden and metal structures, and that creates an easygoing and simplistic vibe. Beautiful wooden furniture elements, cladding, and custom-made structures can be observed throughout the home's decor introducing the warm organic hint that balances the raw feel of the concrete and the other smooth surfaces.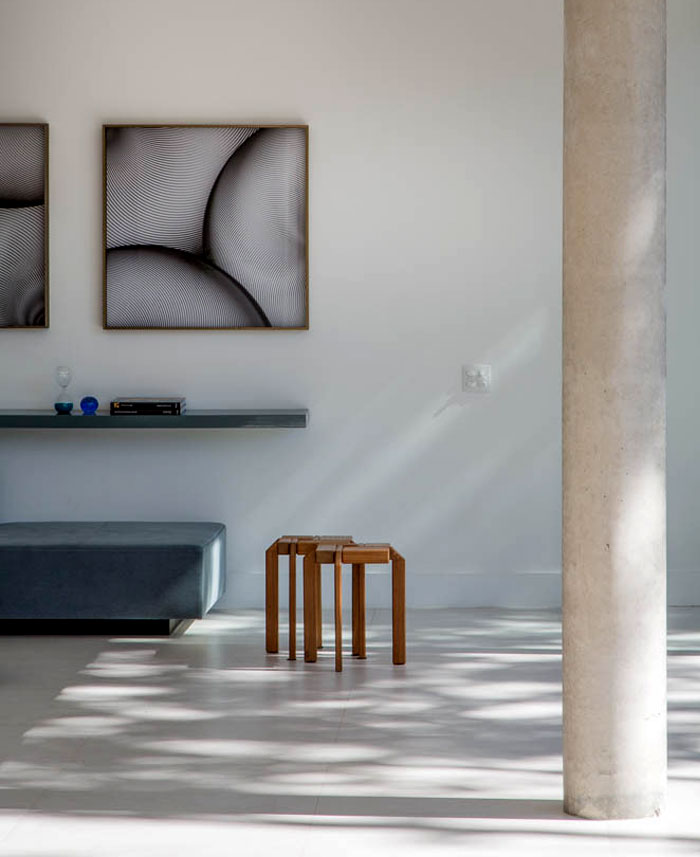 We like the modern simplicity in the bathroom – luminous white and trendy metro tiles compose the unostentatious yet elegant ambiance. The beautiful trees surrounding the property (and even inserted into the house's courtyard-like central staircase area) give beautiful and characteristic focal accents to the decor and architectural composition. It is always a winning strike to include life protagonist into the home's decor. Photography by André Nazareth