Trendy urban chic with vintage and folklore design elements this project of the Ukrainian team balbek bureau is a beautiful and well-measured example of how the rustic warmth can be elegantly combined with modern comfort and style.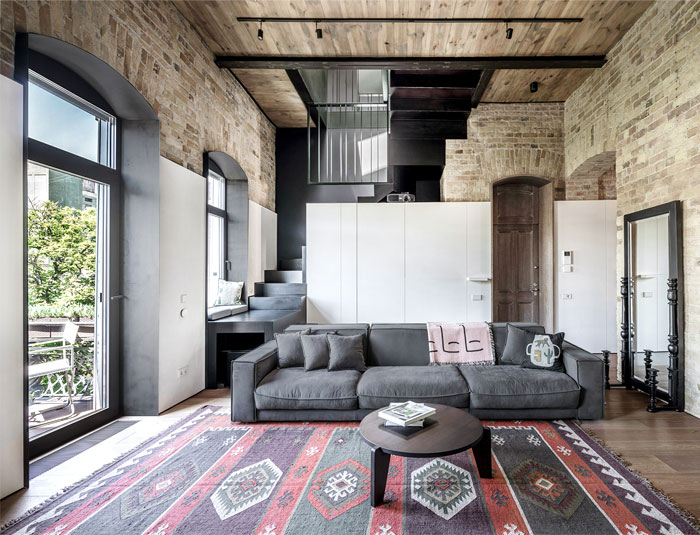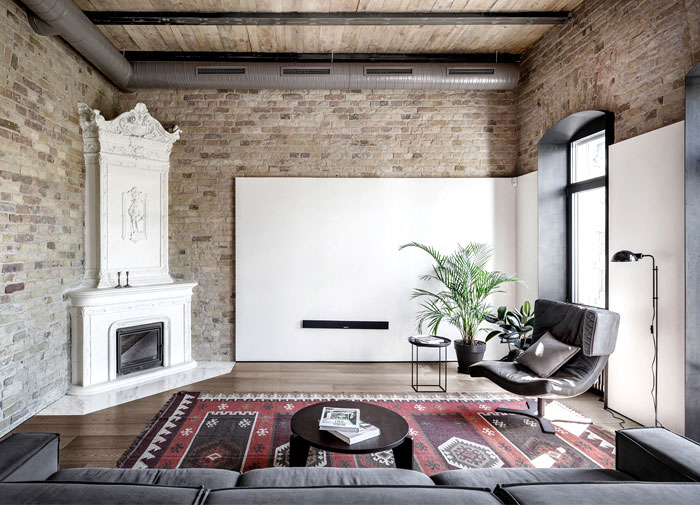 Old castle-like feel in the main living premises is coming from the magnificent stone structures and the romantic hints from the whitewashed fireplace are paired with the smooth wooden ceiling above and the folklore style pattern of the rug, below. Modern additions like the trendy furniture pieces and the exposed ventilation piping introduce the urban sensation into the stylish design composition. Intriguing architectural niches like the elevated window reading niche, the arched window frames, the trendy spiral staircase leading to the second level sloped roof premises add to the specific charm of this project. Dark paint for walls and structures, smooth surfaces and rich material palette are used to create expressive focal accents throughout the home.
In the privet areas, the dark walls and the arched tall window frames create an ambiance of certain modern mystique. The main living space is segmented on two levels – the first offers strong ethnic fell but also includes comfortable, inviting and modern elements – super soft looking sleek gray sofa, reading niche on the stairs – a balance that creates a unique character for the decor composition.
The second level entwines the rich stone structures with smooth modern surfaces, composing the kitchen area (a play of geometrical structures here that adds dynamic accent) and the pure natural feel of the unvarnished wooden dining table is stylishly juxtaposed to the darker design elements. Contemporary art pieces, organic materials, and modern furniture elements entwine with ethnic hints and soft textures creating an eclectic ambiance that is urban chic and romantic ethno at the same time. Gorgeous! Photos by Andrey Bezuglov, Yevhenii Avramenko