If you want a warm and classic look for your home that guarantees sustainability and organic atmosphere use extensive brick constructs – they are trendy, durable and flexible material that ensures specific charm for your house decor composition. This modern home located on a hillside in Tijuana, Mexico enjoys beautiful views, open and spacious interior composition and strong connection between the indoor and outdoor premises.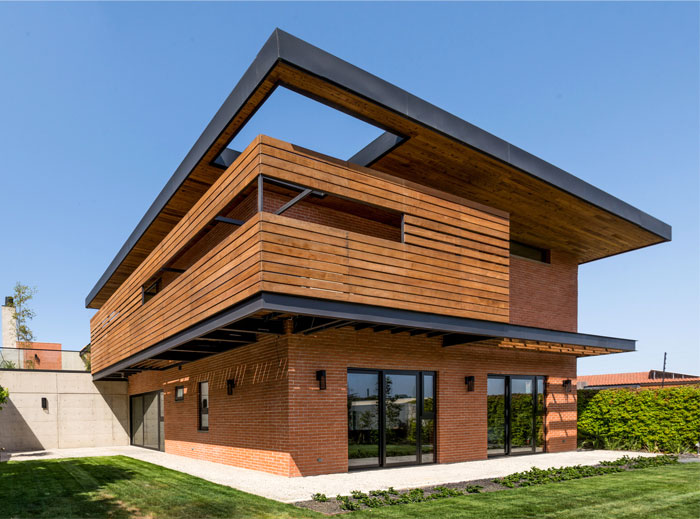 The architects from Guillot Arquitectos used not only the beautiful red brick constructs and expressive clear – lined architectural lines to compose the home they also integrated environmentally responsible approach to the house composition recycling and reusing materials from the old damaged home located previously on the plot. Gray water treatment process, solar panels and clever spatial arrangement and natural ventilation consolidate with this search for sustainability and conscious environmental approach.
The elegant architectural construct of the home allows free flow between premises and fully independent ground floor that includes all commodities necessary. The main social space on the ground level is decided in open -floor plan exposition with fluid access towards the south garden, the inner patio with its small fountain and the BBQ area with outside chimney. The connection is made through vast glass doors and fluid transitions in the architectural construct allowing in this way for the whole space to become borderless indoor-outdoor area.
The characteristic architectural construct with its rectangular shapes and modernistic openings entwines in its beautiful, modern silhouette the expressive red bricks, rich wooden accents, trendy exposed concrete structures and abundance of glass constructs, all framed by trendy black metal elements – beautiful, simple and contemporary. The interior decor of the home corresponds and relays to the natural materials palette used by the architects and offers multiple cozy and welcoming configurations that feature comfortable, large and simple pieces of furniture. An abundance of natural light, spaciousness and close connection with the surrounding nature add to the specific charm of this modern, brick home. Photography by Lizeth Aviles