The contemporary white minimalism of simple rectangular shapes in the architectural construct of this modern retreat house in Mexico is made unforgettable and unique by the subtle, eclectic mixture of its interior composition – modern, traditional and organic hints entwine in one elegant combination.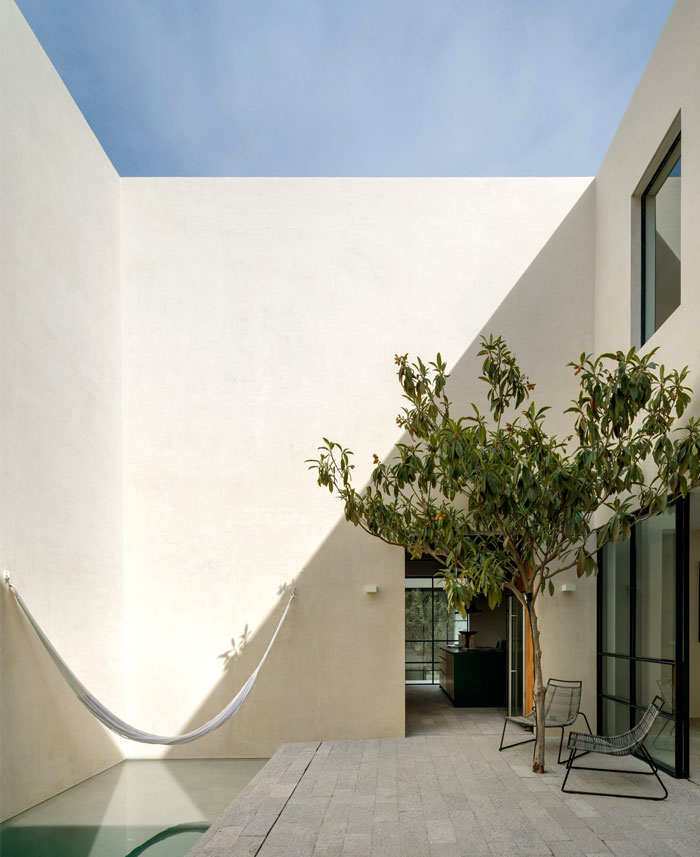 The architects Pérez Palacios and Alfonso de la Concha Rojas composed the home in accordance with the climate conditions and local traditions and arranged three secluded courtyards which provide the residents with access to private outdoor space, fresh air, and shadow. Sustained in minimalist (almost Asian simplicity style) the courtyards offer the pure essence of relaxation – a hammock and a swimming pool, shadow, and delicate green life minimal yet enough.
The architectural construct plays with voids and solids, shadow and light, minimal and organic, not only in the quiet courtyards but throughout the interior, as well. The double height of the main living premise entwines the pure minimalist whiteness of construct, with its modern approach towards the decor, and the organic and warm presence of tradition-inspired rustic hints including the intriguing wooden ceilings with its suspended lamp installation – adding specific character for the home.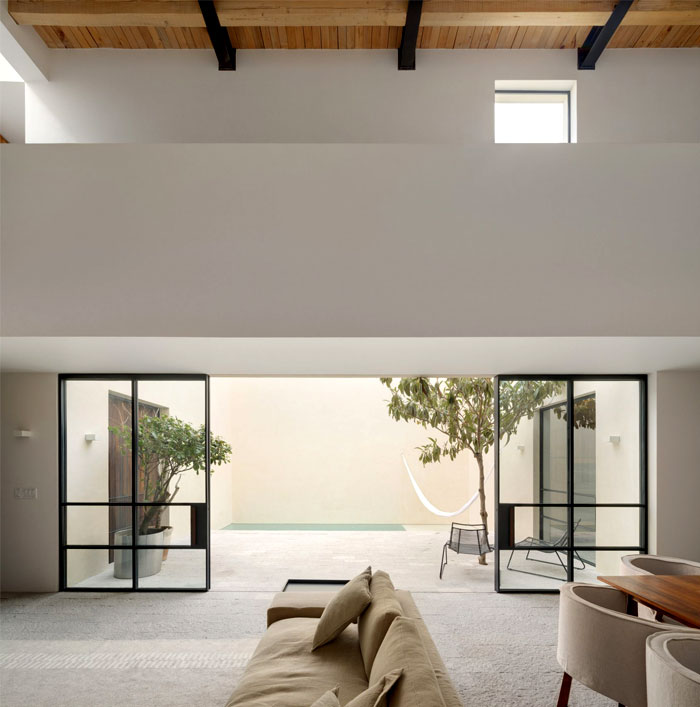 Rich organic textiles linen as sofa upholstery and traditional inspired rug – in light, natural colors add to the cozy and warm feel of the daily zone. Another nod towards the local traditions of interior design is visible in the master bedroom- organic textures, specific constructs, woven design elements – entwine with simplistic contemporary solutions; the large metal-frame windows that make the connection to the outside (modern transparency approach typical for the whole house arrangement), the row concrete and stone floors, the overall minimal aesthetics which makes the design light and delicate. This fresh combination of contemporary elegance and fluid shapes with organic materials and subtle rustic decor elements gives the home very warm and comforting emanation.
The kitchen space is also very characteristic and untypical as an arrangement – smooth black surfaces (very trendy in the last years) entwine with honey-colored wooden structures and custom-made elements, creating a cozy and characteristic environment. Specially cut and piled stone (commonly used in the streets of the city of San Miguel) adorns the floors of the house adding another "grounding" touch to the local traditions, again in modern and inventive read introduced by the designers.