Elegant, trendy and spiced up with artistic details house in West London is featuring multiple exquisite brass details (some of which showing unexpected application for this beautiful material). The imaginative creation of from Simon Astridge explores the brass as a unifying thread that goes throughout the levels of the home and adds glamour, specific charm and unique character to the decor composition.

Artistic design pieces from different travel destinations experienced by the owners and modern approach towards the materials and open clear-lined structures add an eclectic and rich touch to the design composition of the interior. The large brass compositions in the open floor plan arrangement of the kitchen – dining zones add gleaming warm honey experience to the food preparation and consummation time. Custom made cabinetry with a brass surface, thin lines as underlining details, and appliances clad in the golden sparkle of the material form a dramatic and exquisite decor composition. Even stairs are clad in it, as a brass thread or a golden path leading towards the rest of the intriguing house interior.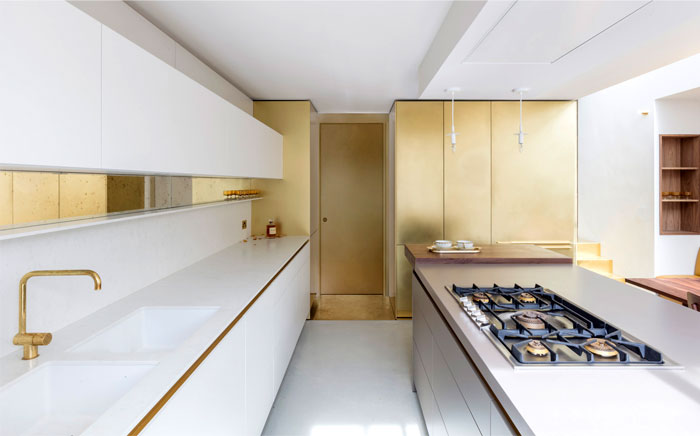 The designers entwined classic charm features – like the ornaments on the ceilings, the fireplace, the lion legged bathtub or even the opulent brick facade of the house – with elegant contemporary design elements – like the black metal frames and lining on different constructs throughout the house; staircase railing, metal and glass partitions and so on. This intriguing mixture of retro-inspired pieces of furniture (just check out the leather-clad bench in the dining zone) with very trendy and artistic details presents especially visible fusion in the bathrooms' arrangement.
Terrazzo and black metal framed glass partition in one of them and the beautiful blue embellished art deco tiles that connect seamlessly with clean and uncomplicated brass joinery details in the other. The lustrously polished brass elements throughout the house – from the trendy lamp's design, to the simple lining of decor elements,- sits beautifully amongst the existing heritage fabrics and retro-inspired details, and soften harder materials such as dark timbers, stone, and steel. Lush green accents in rustic woven buckets add a warm, homey touch into the elegant contemporary composition.