The office of Serbian iGaming firm Catena Media is located in Airport City Belgrade – the new business estate in the Serbian capital. For the open-plan office the architects at Autori came up with a well-balanced and sophisticated mixture of different working zones and various areas offering privacy, not to mention distractions of a playful and sporty nature. Moreover, Autori does not rely on the very bright colors and theme world found, say, in Google's offices. At Catena Media the world of nerds and techies is actually rather elegant. Muted colors and materials dominate, while walls of light birch make for a markedly warm atmosphere.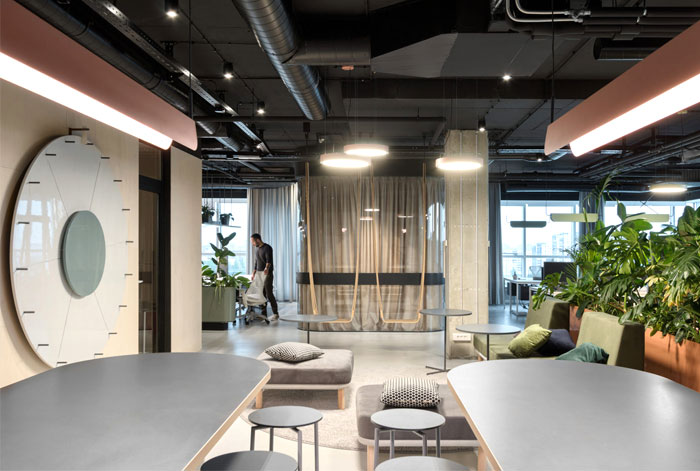 The open-plan office features various zones that merge into one another. Sharp edges are nowhere in sight: Closed rooms of rounded glass walls serve as conference rooms, meeting and retreat areas for concentrated working and making phone calls. In keeping with the current zeitgeist staff do not have fixed workplaces. Rather, they can decide where and how they wish to work. More intimate zones alternate with open standing workplaces more reminiscent of a living room, and "normal" workplaces at larger desks.
Many of the fitted elements that Autori developed specially for the firm are veritable multi-taskers. For example, the wooden wall in the entrance area also doubles as a magnet board, where staff and guests alike can create news and graphics using magnets of varying shapes. Similarly, the luminaires not only provide the appropriate light, but also morph above the desks into hanging gardens. Nor was the common garden plant banned from the office space: They act as dividers between the various functional zones and ensure a pleasant room climate.
A central wood paneled wall not only provides standing workplaces, but also numerous possibilities for physical training – for a quick pull-up during a break or simply to thoroughly stretch the spine. Finally, in the open kitchen two large tables, swings, a table tennis table and a wheel of fortune, which also doubles as a whiteboard ensure staff have an entertaining and active break. by Adeline Seidel for Stylepark; Photo credits: Relja Ivanic