If one takes a closer look at the historical evolution of kitchens, the most notable development is the circulation of purpose and the place of the kitchen premise in the house arrangement. From strictly functional space, usually staked on the back of the home or underneath all the other rooms on the underground level (if it is a big house or an old mansion) the kitchens become an attractive premise located at the heart of the house composition. Thanks to technological advances and clever architectural solutions for ventilation and space distribution nowadays the kitchens become a central piece of the design arrangement around which the daily lives revolve. The open concept of the living zones in modern architecture and design places the modern kitchen into the center of the decor composition.
For centuries the kitchen was strictly a work space. Often tucked in the back of the house, it had room for just the bare essentials. But a peek at many new kitchens today reveals a very different approach: the open concept kitchen at the heart of the home. Now people want the kitchen to be an active part of the family home, and open-concept kitchens are by far the more popular choice today.
What is an Open Concept Kitchen?
Let's take a look at the open floor plan of modern kitchens – what defines them, what are the main characteristics and variations of such an arrangement and what are the latest tendencies in contemporary kitchen design? The search of modern designers for fluid and free space flow, the need to combine the high quality of life with simplistic and elegant arrangement without sacrificing the functionality of purpose, leads to a variety of open plan living premise arraignment. Most often, the kitchen zone – open and functional is linked to some kind of dining area – from simple bar arrangement to the classic dining table – chairs set. And usually, in the open floor concept, the dining area gives the symbolic border between the food preparation zone and the rest of the daily living space. But thanks to the infinite creativity of modern designers there is a great variety of approaches to arrange such a layout.
The idea of an open concept kitchen is not at all unusual, especially in the case of modern and contemporary homes. Nowadays the tendency is to make the interior as fluid as possible and to simplify the structure and the decor as much as possible without sacrificing the functionality. It's why eliminating the barrier between the kitchen and the social spaces, is a practical move. Most often, the kitchen is linked to the dining area and the two spaces are adjacent. The dining table usually becomes a buffer zone between the kitchen and the living/seating area.
Pros & Cons of an Open Kitchen Layout
Why to choose and open floor design arrangement? The easiest way, when faced with choice, is to take a thorough look at the advantages and possible limitations of the task.
Advantages: Firstly, an open layout caries a great benefit for the social life of the family – no more isolation and compartmentalization of the food preparation process – all the inhabitants and their guest can participate fully not only in the consummation but in the process of preparation of the meal – even if it's only as a company to the cook. So, opening the kitchen towards the rest of the living premises introduces a unity not only to the spatial arrangement but into the lives of the owners as well.
Apart from the social benefits of such layout, the feel of spaciousness, free movement and open space for the home is not to be underestimated. With clever design arrangement, even a small home can appear big and spacious when a free flow is established between the main zones of living premises. And of course, the practical side of the free movement between the kitchen counter and oven to the dining area makes serving and picking up the table an easy and enjoyable task.
Disadvantages: Some difficulties of open floor arrangement for the kitchen can come from the architectural challenge of removing walls, adding new plumbing and wiring if ones are not provided from the original architectural construct of your home.
A small challenge can come from the lack of compartmentalization – open floor arrangement means a free migration of noises, smells and general chaos between the daily zones of your home. And finally the cost of remodeling your kitchen can be quite significant, alas, the kitchen is one of the most expensive spaces in one's home – be prepared for that inconvenience as well. So, if your mind is made up, let's continue to explore the possibilities offered from modern design and innovative arrangements for your open plan project.
Open Concept Kitchen and Living Room Layouts
One Wall Modular Kitchen
This type of kitchen arrangement revolves around a one-wall setting that host different modules of kitchen appliances aiming for a linear configuration, which makes it the most simple and clear-lined way to compose a cooking corner into the open layout of the home. In this way, the kitchen zone in the open-plan configuration stays as a single space without defined borders between it and the rest of the living space.
Here the inventive imagination of modern designers is searching for a flexible, colorful and practical arrangement of the different kitchen units (from the fridge to the sink) so to suit the owners needs and personal style in just one, straight line of working space.
Galley Kitchen Layout
Taking its name from a ship configuration this type – the galley kitchen's layout is arranged along the rear of the living space and like a ship's galley is stretching lengthways as a corridor through the ship. And because the galleries represent a confined space, more or less by definition, the gallery kitchens are especially suitable for small homes or challenging premises.
Located between two parallel benches (cabinets, kitchen islands or another of your choosing modules from the kitchen appliances) this type of modern kitchen layout is, as a matter of fact, so efficient and easy to maneuver through that is very popular as a busy restaurant's favored kitchen's layout. In fact, they are efficient for working movements but not so much for social interaction – this type of arrangements usually do not include a dining corner or sit and chat area.
So, suitable for small apartments or large open premises – this type of modern kitchen arrangement can be quite fun: arranging the kitchen modules and utilizing the "speed track" between them in equal measures.
L-Shaped Modular Kitchen
The L-shaped modular kitchen is quite a popular layout especially when the kitchen adjoins another of the day-life living premises. This type of simple, yet effective kitchen configuration, offers a magnificent decor not only for functional cooking but also, with its open-end connection, brings dynamics for the social interactions of the home, as well.
Finishing the small stripe of the letter L – a shot kitchen unit serving as a cute breakfast – bar is also quite a popular choice. Offering comfort, practical distribution of space and enough countertops and cabinets to host all the necessary appliances of one's kitchen – the L shaped configuration is a good, classic choice to go with.
The easy going and stylish dynamics of the L-shaped kitchen's configuration offers a great variety of design choices one can go for. Careful planning of your kitchen, clever selection of modules for any particular configuration guarantees a functional distribution of space and enough storage and utility units to meet your needs. L-shaped kitchens feature plenty of counter space, open end for easy connection with the rest of the living premises and enough inner space for kitchen work without going around or always bumping into something.
U-Shaped (Horseshoe) Kitchen
Almost as defining a room within a room, this functional and we may add – cozy kitchen arrangement is especially suitable for vast open plan layouts or if one desires a more cozy definition of the food preparation zone. In reality, the U-shaped kitchen configuration works equally well in small and large spaces, offering multiple cabinets and practical surface choices for the cook. Compactly arranging multiple modular kitchen pieces the U-shape configuration offers lots of countertop surface and well-organized storage spaces that are always close at hand. The other positive characteristic of such a configuration is that multiple cooks can use the space simultaneously without getting in each other's ways.
U-shaped modular kitchen configuration offers a very cozy expression of separate functions introducing a well-defined cooking corner within an open space layout. The three walls cladding with different kitchen modules, benches and countertops is not only very practical solution but is also a very welcoming one in the design configuration of the home. Seclusion, lots of counter space and efficiency in small or large homes are just some of the pluses for the U-shaped kitchen layout.
G-Shaped (Peninsula) Kitchen
One may look at the G-shaped kitchen is an expansion of the U-shaped configuration – four walls of storage plus the benefit of an additional peninsula that can host more cabinetry or an inviting kitchen island bar. In reality, this kitchen arrangement can be viewed as an upgrade form other letter kitchen configurations, creating an optimum of open floor plan utilization of space.
An abundance of working areas – countertops, appliances and functional cabinetry all arrange around a singular center makes it very easy to operate, create meals and clean afterward without hanging off a mileage. Also, the increased countertop space of the G-shaped kitchen is reachable and usable during the entire cooking process. And the open end of the configuration still connects you with the rest of the social flow.
Open Kitchens With Island
Not limited in specific dimensions or shapes the kitchen island offers great diversity for personal style expression. The kitchen island concept is offering a countertop surface and storage unit that stands freely in the kitchen layout without being connected to the rest of the kitchen modules, providing the possibility for free movement around it, stylish dynamic and unique decor composition.
Such an arrangement can be easily incorporated in L-shaped, U-shaped or G-shaped kitchens, one wall kitchen or galley ones, or the beauty of it can form a functional kitchen space all by itself.
The kitchen island becomes a very functional knack in the imaginative kitchen arrangement – it can offer an extra working, countertop surface, it can hosts sinks or other kitchen appliances, cabinetry and so on, or it can minimalistically offer only a dining – bar configuration. Either way, the kitchen island unit is always a stylish and usable choice that can help you define an extra working surface in for example L-shaped configuration, it can also help you to segment the kitchen into different zones, so that more than one person can work in the kitchen without any significant interference. Being flexible and stylish the island can be introduced in a large variety of kitchen's layouts always caring a freestyle and dynamic element.
Small Open Concept Kitchen
As we established already the open floor layout with its simplicity of structure and openness and ease of movement is quite trendy in contemporary design scene. The link between kitchen, dining and living room premises is searched to be as fluid and flexible as possible in modern life dynamics so this type of configuration becomes frequently used by renowned designers and architects.
In its essence eliminating the physical barrier between the social premises and the kitchens is a practical move – simpler shell – simpler movement – simpler life, so to say. And the good news is that such a configuration is entirely possible even for small homes and space-challenged urban dwellings. You do not need a grand scale architectural shell to achieve an easy, open layout for your daily life and social premises. Quite impressive and attractive results can be found in today's' design scene for small, open concept kitchens. Let's take a look.
Black Open Plan Kitchen
Deciding your kitchen in black is not so exotic and uncommon anymore. Actually, this strong color composition is quite trendy for such premises, especially in open plan kitchen arrangements for a bachelor's pads – a very hot approach that gives a hint of row and untainted power.
But not only – we have selected some pretty amazing examples for you ( in a wide range of styles; from rustic to ultra-modern and urban pads) in our article – Kitchen Design Trends 2018/2019 that show how a beautiful design composition can sit exceptionally well in black for your kitchen.
As a matter of fact, the black compositions can be quite demanding and characteristic, and that's the reason most house owners avoid the combination: black and kitchen. But with its dynamic and strong presence, the black selection is quite popular with bold designers, artistic circles, and more demanding clients searching for untypical luxury.
So here are some intriguing examples for you to take a look and get inspired. The very creative Ukrainian studio Yo Dezeen have some inspired projects in which the black is the dominating color when it comes of kitchen and the living room premises. Check them.
White Open Plan Kitchen
Another polar choice is the white – here the designers and homeowners find a refuge (a classic one, we may add) from bold colors and strong combinations.
Using an abundance of white elements and surfaces creates a feel of spaciousness and luminous ease so naturally, a lot of people prefer it.
White is a good color for opening up and lighting up the decor compositions – so it is especially applicable when there is a dynamic open plan kitchen composition but on a small scale even the tiniest premise can host enough modular surfaces without looking crowded if a light color combination and simplistic shapes are creatively applied.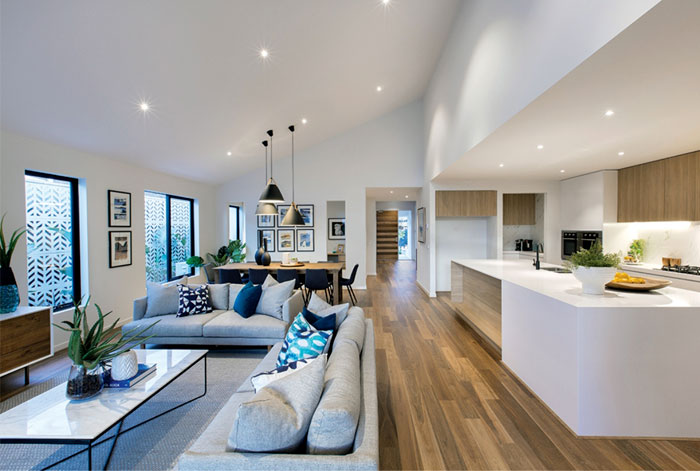 Keep it Sweet and Simple
Golden rule to follow especially when it comes to small premises, which are the real challenge to design. We selected for you three different projects which demonstrate a very creative and adequate composition for limited space and open plan kitchen configuration.
The white walls and general lightness of the backdrop and the color composition are an excellent base for the open plan composition. The entwinement of wooden surfaces, fresh green elements, and prevailing whiteness creates an ambiance of ease and freshens.
Soft and clear lined sitting arrangements combine exceptionally well with light colors and classic gray elements. This kind of simplicity opens the premises and carries a feel of purity and relaxation.
Incorporate Color
Just don't be afraid to use color. Applied creatively and with a clever dash, they will give you a great advantage when composing your signature home decor. Lately, the pastel tonalities are so trendy that we encounter great examples of their creative usage not only in living rooms and bedrooms but also in unexpected kitchen compositions.
The Millennial Pink is also not losing its hot ant trendy position, we encounter it quite often as a design color in trendy furniture design and upholstery, as a wall color or just as a decorative element.
Different combinations of blue, orange or yellow can also be a winning composition for your kitchen space. They introduce certain mood and personal sentiment into one of the most practical premises of your home.
When it comes to kitchen and living room wallpaper ideas, murals are so popular right now and really express your personality. It can also be used to highlight a particular architectural feature such as a chimney breast or alcoves.
Let There Be Light
The mansard or mezzanine premise caries certain romantic spirit and coziness but it also can be quite a challenging space to design: the sloped roof, the exposed wooden beams, and the small windows can crowd and darken the space. But as any other challenge, an opportunity can be found here for the inventive and highly creative design spirits. Here are three examples of how such premises can be adequate to modern lifestyle and offer comfort and elegance thanks to the clever incorporation of light into the design compositions.
The modular kitchen by Vipp separates the open floor space into a food preparation zone, and a living premise and the designers use large windows with characteristic silhouettes to illuminate different elements of the decor. The light becomes a key factor of the design composition introducing comfort and functionality to the unusual space distribution.
Using the light to create comfortable and welcoming ambiance gives you home certain appeal, elegance and unique character. The natural light gives a fresh and healthy glow to anything that touches including your food – so it is essential to have good natural light illumination in the food preparation zone. When working on the kitchen counter, it is clever to arrange the layout in such a manner that the light comes behind your shoulder and does not blind you in your face.
As these examples show – using the light as an essential protagonist of the design arrangement will give you not only unique and expressive home, but it will also increase the productivity of your daily life premises, will introduce calm and ease into your decor composition and will ensure safe and comfortable environment. Arranging the light so it can illuminate all of your activates – cooking, serving and consuming the food, cleaning, tidying or just relaxing – can be quite a challenge but it is totally worth it.
Simple Color Palette
graffiti gray in combination with white and light beige accentuated by strong black elements is a very trendy and elegant combination nowadays. The Taiwanese studio 2BOOKS design present us with one very stylish and modern Zen – take on contemporary urban lifestyle.
Lacquered kitchen cabinets, a metal cladding of the kitchen island and strong graphic accents create expressive ambiance. The entwinement of the purity of the cray base and the warm accent of the beige upholstery and decor elements is also a winning combination.
Using pure and simple color combinations allows you to introduce bolder colors into your interior decor composition without making it heavy or crowded. In the second project, the usage of untainted wood cladding and fresh green elements sits very well with the dynamic black of the kitchen modules. Dominant colors like blue or green are perfect for artistic and expressive urban dwellings and applied cleverly can open the space and offer unique ambiance for your kitchen experience.
Indoor-Outdoor Appeal
creating a strong link between the outside nature and your open floor kitchen exposition can be winning design knack that brings serenity and unique character to your interior design project. Establishing a Natural Approach through openings, views, materials and design elements requires certain architectural pre-givings but bringing Nature into your home is always possible.
Sitting in the border between indoor and outdoor premise this kitchen design project introduces a dining experience that makes a connection between home and nature through doors, structures and materials. The fresh feel of the exposed concrete walls and rich tile flooring is balanced by the warmth of the wooden structures and their link with the lush green plants. This indoor-outdoor kitchen makes the connection through doors and through materials.
Using larger window openings, sliding glass doors or French doors is a good approach to create a strong link between the inside premises and the outside gardens and surroundings. Introducing abundance of natural light into the kitchen zone is always a plus. No to mention fresh air, natural ventilation and beautiful views.
Family Friendly Kitchen
When talking about family-friendly space design that offers attractive, playful and practical at the same time layout in which all family members feel comfortable and safe the renowned Taiwanese studio HAO Design comes to mind. They playfully insert intriguing design elements (including LEGO inspired furniture pieces or trampolines) into the open layout of the kitchen-living room premise combo.
The goal: the children to spend as much time as possible with their parents in a safe and loving environment is achieved by creating a light modern interior composition that incorporates, a play area – a climbing and sliding structures plus whimsical design details – into an elegant layout with an abundance of soft natural materials. Composing open, organic spaces that inspire children, as well as adults for creative activates, is quite a signature design touch.
In today's busy lifestyle such compositions in which children can freely play alongside the adult members of the families while they perform their daily activities is quite precious and stimulate us to observe the creative searches of modern designers towards family time premises.
Divide Kitchen from Living Room
There are many elegant and creative ways to separate, or more precisely to signify the symbolic border between the kitchen and living room premises without actually creating different rooms with walls and doors. One of the trendy approaches in modern design is to elevate one of the zones. Creating a layering to the open plan layout is a creative and dynamic approach that visually distinguishes the difference between purpose and aloes you to use different design combinations in one open space.
Another frequently used approach for separation between the food preparation zone and the living space in the open layout arrangement is the glass partition – a trendy and functional knack that, although visually do not separates – light and view still go through – gives a certain level of privacy between the two zones. Noises and smells are kept contained without disturbing the visual flow of the layout.
Using a sliding door or incorporated panel, that hides if necessary the kitchen and food preparation zone is also a popular option in modern design. Some luxurious projects use the strong textual and materials accents to "make disappear" the food preparation zone when not in use. In this trendy and luxurious project, the continuity of the materials palette and the custom-made structures that entwine wood, marble and matt black surfaces helps the designers to melt the kitchen and hid it behind a sliding panel without visually disturbing the unity of the open floor plan.