Wuhan Greenland Center is a super-tall landmark skyscraper in Wuhan city of China. With a height of 636 meters, it was designed by Adrian Smith + Gordon Gill Architecture, an American design team which has designed several world-famous super-tall buildings, such as the Burj Khalifa Tower in Dubai, Jin Mao Tower in Shanghai.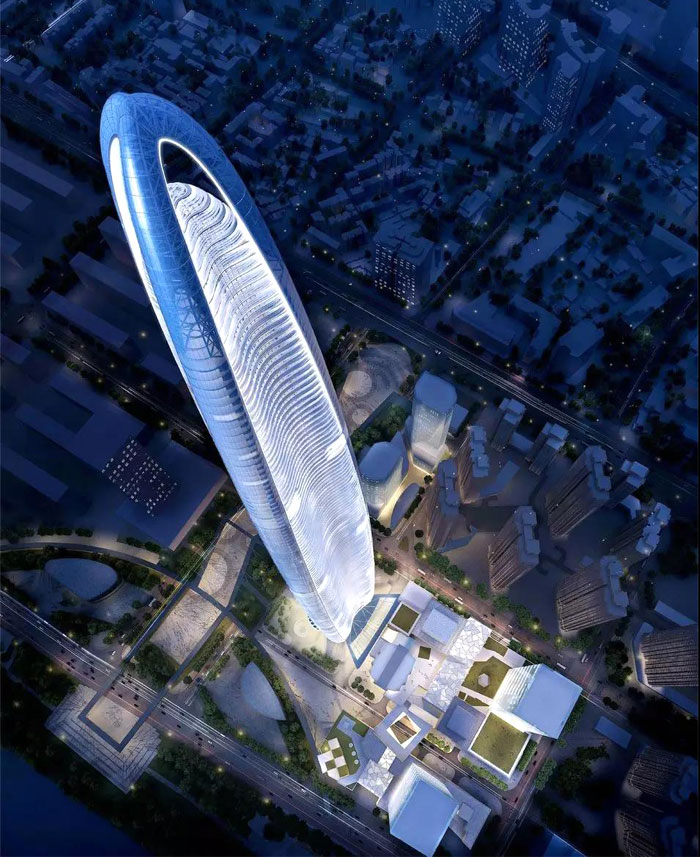 Arrival lobby on the first floor, the sky lobby on the 66th floor, the executive lounge and the multi-function hall, as well as the reception area on the 11th floor and the President Mansion's interior design of the 76-85 floors, were completed by CCD/Cheng Chung Design (HK). This project is located in the core area of the Binjiang business district of Wuchang, and it will become a super high-rise urban complex which integrates super five-star hotels, high-end shopping malls, top-grade office buildings and apartments.
Reception Area on the 11F

Following the interior design concept of the whole project, "pavilions and corridors" with modern building shapes were created as the design ideal. Several multiple functional areas like the reception entrance, lounge area, discussion area, art space and passages to the show flats were designed into scenes of the Oriental classical courtyard, and together they seem to achieve a distant living situation between the high mountains and running water.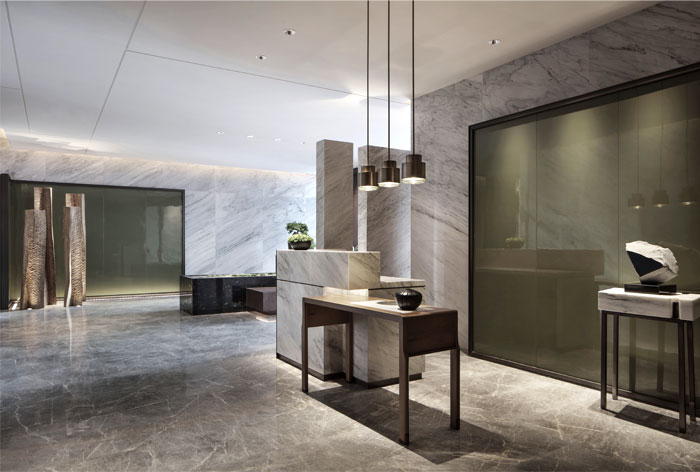 Designers set an independent reception space at the front entrance and transferred the passages to show flats into pavilions and corridors, along which the ancient bamboo paths were reconstructed through artworks and small landscape installations. The paths guide the guests to enter inside slowly, just like in ancient times that when guests came to visit, the master would lead them to walk through 3 yards before entering the restrooms. In the resting area, the seats are arranged scattered, and some are put in front of the window, facing the Yangtze River. Sunlight projects onto the earth color carpet through glass curtain wall is like sunlight shining through leaves and branches of trees, forming random and scattered shadows.
Global President Mansion

The design theme of this show flat came from the two sentences "it's like the lofty Mount Tai is standing in front of me, and it's like the endless river is flowing in front of me." in China's ancient melody "High Mountains and Running Water." Designers borrowed the allusion that "talent and ability can rarely be appreciated by others, but Zhong Ziqi understands the meaning of Bo Ya's music, then they became friends." And presented a space which is "surrounded by mountains and water', and in which meaning integrates with scene harmoniously.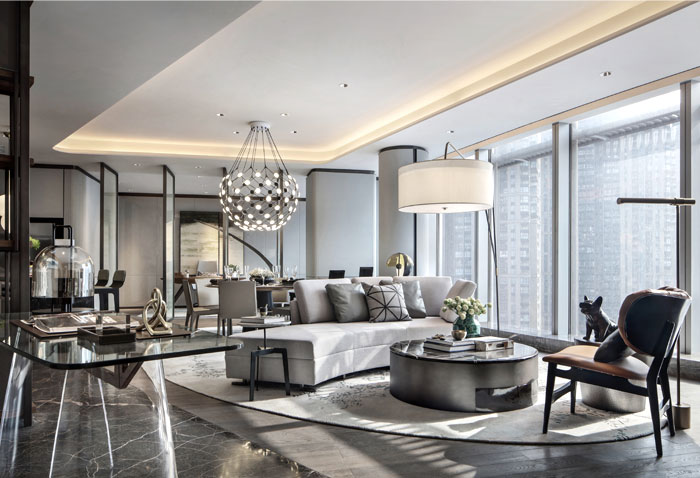 The handling of brightness and openness is also a key factor in this project. In the eyes of designers, the changes of space and atmosphere are the most attractive parts in traditional Chinese space. Therefore, the space sequence created by design alternates between natural light and artificial light. The brightness of space also follows the alternation of natural light and artificial light; synchronously, the transparency, closeness, and semi-transparency are carefully arranged in this process. People enter here, in a different time, the different angle will see the classical "enclosed yard" again and as though hearing the harmonious ancient Chinese music of "high mountains and running water," which to some extent also paying homage to time and space. Photography: CCD/ Cheng Chung Design (HK)