Contemporary minimalism in its full splendor composes the expressive white shell of this modern home nestled amongst the dense pine forests, next to Apple Beach, Portugal. Inspired by the lovely landscape setting the architects from Frederico Valsassina Arquitectos aimed for a single volume whit two distinct faces – one that protects the privacy of the inhabitants and one that opens towards the beautiful natural surroundings, hence each space of the fluid interior arrangement of premises has its own autonomous access to the outside.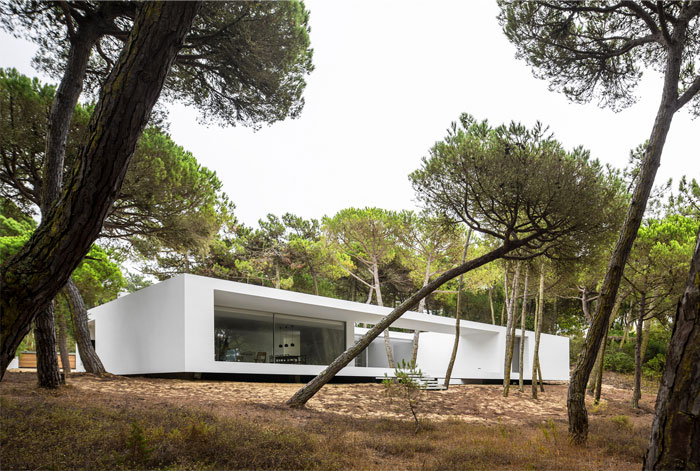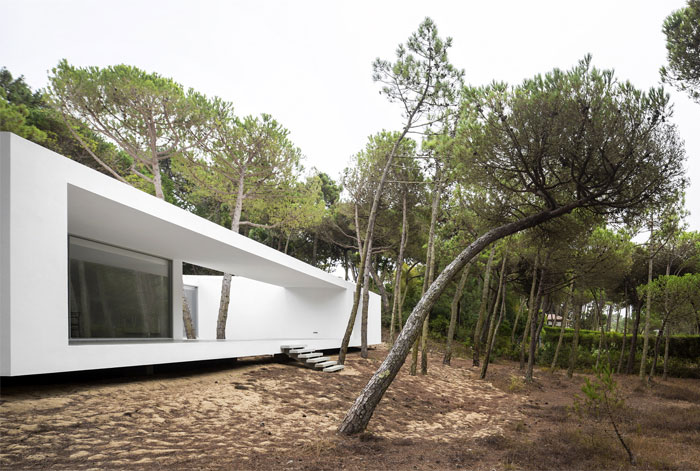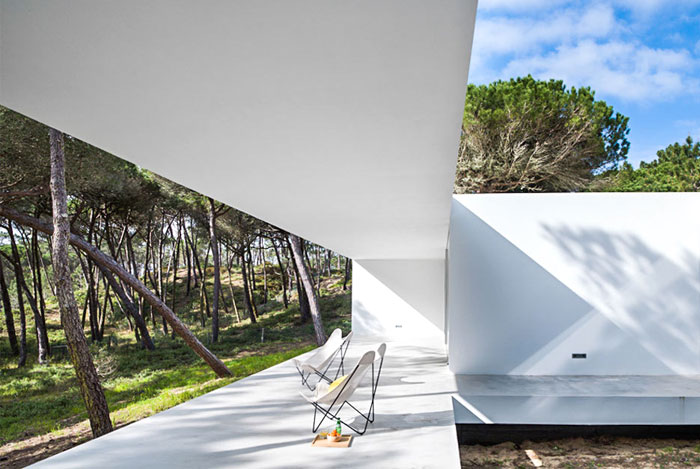 Blurring the borders between inside an out large panoramic windows and sliding glass doors compose the simple rectangular shape of the facade, the continuity of the pure materials palette – including the bright white shell and the cement pavement – is cladding the composition inside and out.
The unique sculptural presence of the expressive architectural shell of this contemporary home is reflected by the interior decor. Using trendy and elegant furniture pieces – mainly by the renowned brand Vitra, the designers fallow the minimalist inspiration of rectangular shapes and the purity of the pine threes aroma. The luminosity of the clean white surfaces and the vast transparent panoramic openings give a wonderful setup for the future modern inspiration.
In the main living room premise, large white sofas invite for relaxation in front of the custom build fireplace, which gives a black accent replicating the clear-lined rectangular shape of the space architecture. Classic dining set in warm wood paired up with trendy suspended lamps supplements the decor composition, here.
The same simplistic and modern furniture arrangement, entwined with clear-lined bespoke structures is used throughout the home decor. Including the office space that offers not only elegant entwinement of the custom-made shelving and the iconic lounge chair by Eames for Vitra (only, this time in white, to match the rest of the luminous home atmosphere), but it also introduces light, playful hint, enhanced by the undulated, plastic shape of the office chair and by the decorative, large car model. Photography by Fernando Guerra | FG+SG, Juan Rodriguez