Is it possible to fit the whole living space in one big room? Well, the designers from PartyDesign Studio certainly tried.
Composing this modern urban apartment, they used trendy design approaches one of which – the transparent mesh screens from glass and black metal frame that define the different functional zones of the home. Without really breaking the main natural light flow – become a strong focal accent and dynamic modern addition to the interior decor.
This urban dwelling unites stylish and modern furniture assembly, expressive colors, beautiful mosaics and amazing custom-made structures in one picturesque and modern interior creation.
The metal framed glass screens are not so much a division knacks – they become more of a frame for a picturesque exhibitions of stylishly arranged viewpoints. Just check out the bathroom arrangement: the beautiful tile mosaic with its dynamic colors and abstract shapes, the trendy brass elements that add sparkle and glamor to the composition; the elegant simplicity of the lines – all easily becomes a significant protagonist to the bedroom and by association living room arrangement visible through the transparent separations.
Throughout the apartment, the color scheme is in sync following the urban-dynamics and powerful combinations of dark charcoal grays, bluish hues, trendy blacks and the vitality of peach, wood, and beige accents. The colors and materials palette used in the design of the apartment is diverse, modern and dynamic – like the design arrangement itself. Creating multiple vantage points and different depths of perception the designers secured entertaining dynamics for the décor composition and unique ambiance to inhabit.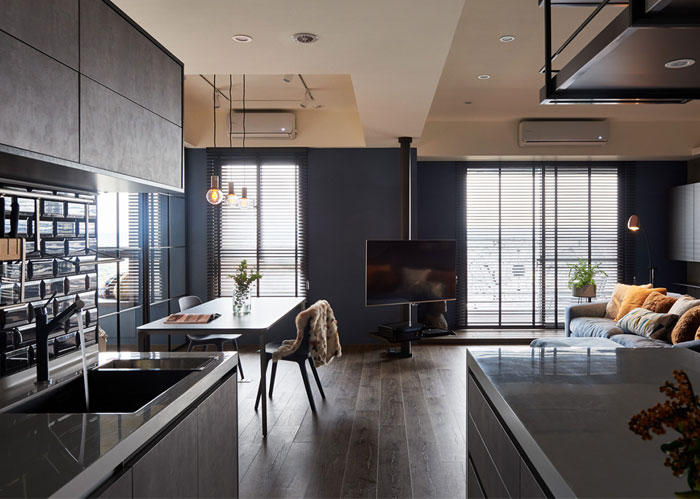 Favorite moments of the design; the custom-made niches in the wall cabinet of the living room – offering a dynamic juxtaposition between the dark base and the light wooden cladding of each niche. The shining black tile wall cladding of the kitchen zone, again with a strong statement of juxtaposition to the pure, bright grays of the kitchen structures. The depth of view offered through the glass-metal meshes towards the bedroom and especially bathroom decors – always finishing with a beautiful tile mosaic accent. The suspended metal frames that can host pots with a fresh green plant life-a very trendy design element. Yes, this urban dwelling definitely overs multiple artistic interpretations of modern interior design trends. Hey!Cheese Photography