Fluid is not the opposite of solid: at the Salone del Mobile, Laminam will be showcasing a preview of FLUIDOSOLIDO, its new series of 12 mm thick slabs. From the immense liquid depths of the sea to the hard granitic rocks of the mainland: fluid textures on extremely resistant, solid ceramic surfaces.
At the Salone del Mobile, Laminam uses its ceramic slabs to illustrate the sharp contrasts of nature, where opposing elements complete one another and blend seamlessly to shape the setting. An eco-system where the natural underwater equilibrium appears like a preordained vital structure opposing and also ending the terrestrial world; both inhabited, they still feature signs of life past and present, from fossils to marine creatures.
Laminam presents a preview of its new range of colors in the Capital of Design: a range devised to raise eyebrows that will allow architects and designers to choose between two contrasting shades: *blue, which expresses feelings of quiet and self-awareness, a profound spirituality similar to the state of mind one achieves by diving into deep water, enveloped by total silence and full awareness. Grey, recalls the visual perception of cliffs, as they rise out from the waters and become an integral part of them.
On display at the Salone del Mobile, FluidoSolido slabs in the Blu Lucidato finish have been applied in an architectural continuum from flooring to wall cladding, whereas, at the FuoriSalone collateral event, the Martinique project is dedicated to the use of slabs in the furnishing sector.
Laminam ceramic top: Following the launch of the advertising project, Laminam, the ceramic countertop, the journey through the culinary world comes to life with 6 episodes, genuine snippets of the web that are scheduled to be presented throughout 2018. While the Salone del Mobile show itself is an opportunity to showcase the new surfaces in the marine eco-system, the FuoriSalone collateral event is the perfect location to illustrate plant-based nature through a spectacular item of interior décor created for the occasion: Martinique project (Concept: Alessandra Stefani, Stefano Mora)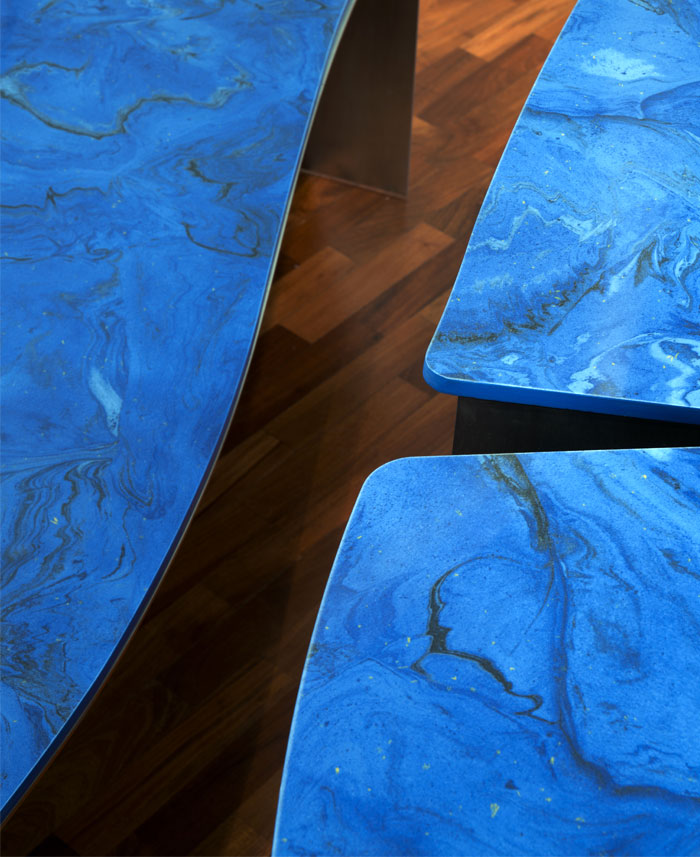 A large table made using the most recent Laminam surfaces in the 12 mm thickness pays tribute to the urban jungle in a layout with a strong scenic impact. Indeed, the organically-shaped table gives rise to genuine lifeblood: shapes and figures that expand like a stain spreading across the ground.