The beauty of the pure and simple lines, colors, and materials in the Scandinavian stylistics is composing this Asian-fusion restaurant in Copenhagen, Denmark. Ferm Living as a brand that is mainly focused on furniture and home accessories (some of which we have featured for you in our Christmas Decoration post) created elegant and characteristic interior decor that reflects both the Nordic roots of the restaurant and the Asian flavor in the cuisine.
Aiming to create a space that not only represents the stylistics and values of bout words but is also characteristic, contemporary and inviting and the guests "will want to linger" the designers from Ferm Living used expressive color and shape compositions.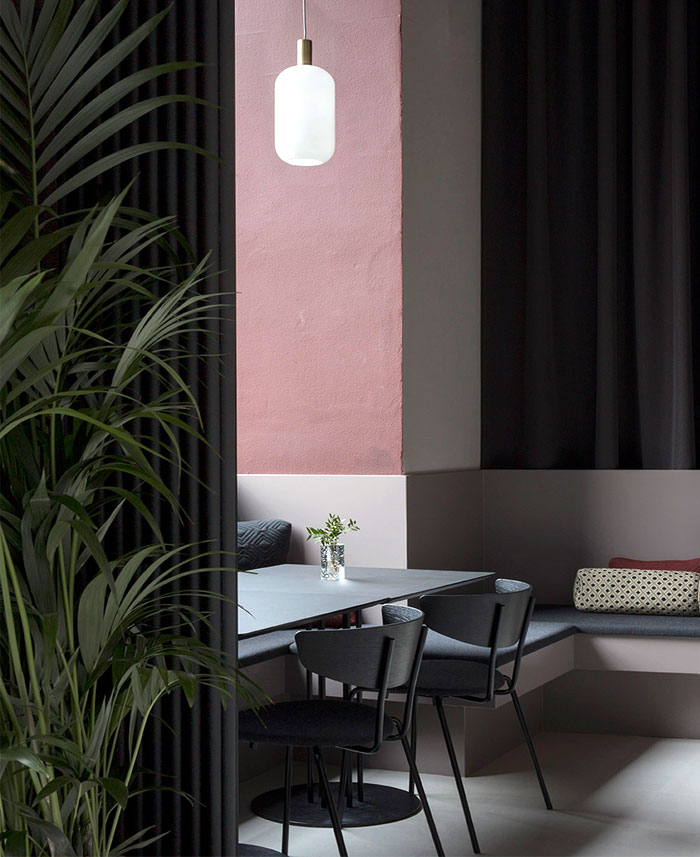 The designers developed a specific color scheme that reflects the location and concept of the space. For example, the pale beige tones throughout the space take cues from the hues of Copenhagen's building and rooftops and the warm shades of red, gray and muted pink create homey and tranquil ambiance. Meanwhile, turning towards the Asian stylistics, the deep red that covers the facade and some of the internal walls is a color that, in China, symbolizes joy and good fortune.
Using characteristic lines, slim silhouettes and expressive yet straightforward shapes and materials the designer composed very stylish ambiance – an eclectic mixture of contemporary represented cultures from north and east. Of course, space is furnished and decorated mainly by the brand's products, including some from their new collection called 'Nordic decadence".
Specific decor elements: from the rust-colored Quilt cushions to the dome-shaped lamps that hang above the tables, the elegant thin lines of the dark-hued Herman chairs or the earth-toned bowls from their Sekki collection are also Ferm's creations. Other elements of the decor – like the trendy metro tiles, cladding the walls around the bar, or the beautiful cascading series of brass pendants lights with large, white bulbs are a signature and fashionable element of contemporary decor inspiration. Trend inspired approach that includes the dark undulated shape of the bar base and some of the space dividers throughout the restaurant, their textural expression matching the shape and hue of the heavy gray curtains.
Utilizing the challenging layout of the space, that includes multiple nooks, the designers created dynamic diversity of sitting corners, offering unique experience in each: the intimate little table for a date, a large round table for gathering whit friend, and a seat at the bar, where one gets to experience the magic of the kitchen. Genuinely stylish in its simplicity the interior created by Ferm Living present us whit unusual approach toward modern restaurant interior design.