It is hard to believe that this rich and intriguing interior decor is laid on a simple soviet apartment backdrop, isn't it? The Ukrainian designer Olga Fradina created this eclectic "Scandinavian Zen" – as she calls it, an interior composition based on the needs and good knowledge of the client's diverse lifestyle.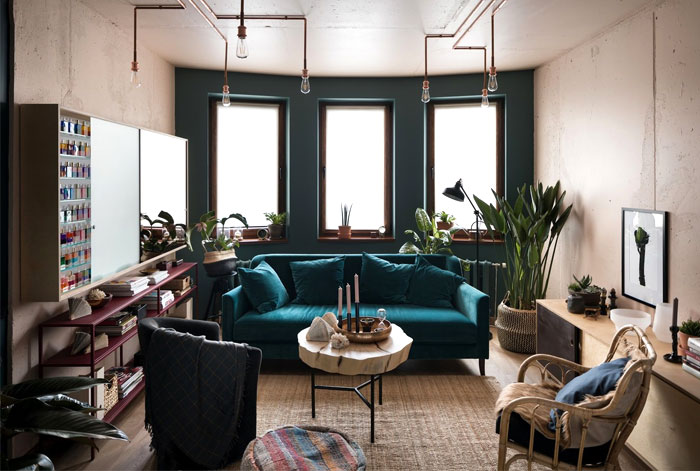 Accepting the eastern philosophy for the interior, where natural beauty, natural materials, and forms are valued; the designer selected the ingredients for this mix, based on the creative personality of the owner and the directions of her activities. The interior composition entwines elements of industrial-inspired style, minimalism, and Scandinavian purity together with African masks, rustic furniture pieces combined with laconic furniture and Ikea products. The owner's art collection finds its place alongside author's prints of Olga Fradina, her origami, ceramics, and calligraphy.
Contrasting colors (on walls, furniture, and details) based on a duality between different shades of beige and blue give a warm context to the decor of the main living premise. Intriguing and trendy brass elements entwine with the tribal feel of some of the furniture and decoration details. In the eclectic kitchen mixture again creates dynamic and warm interior composition.
Elegant custom-made structure of thin wooden frames and marsala colored cabinets is laid on the base of trendy metro tiles (only arranged in vertical expression) composition. And speaking of stylish tiles arrangement: check out this dynamic and playful exposition of white and deep blue in the bathroom premise. Most of the furniture in the open area, as in the rest of the rooms, is made by Ukrainian furniture makers according to the sketches of the interior designer. Other artists exhibit here as well: "Stump" and wooden three-legged stool created by furniture and decor author Staritska Maysternya for example.
Particular attention was paid to the illumination and wiring project: from the chick sparkle of the brass elements to the urban neon lights and installations. Natural textures, rough surfaces (like the painted brick wall in the intriguing massage – studio premise), untainted wood furniture and vivid color combinations compose welcoming and soft ambiance whit modern edge. Photography by Andrey Avdeenko