Spectacular design with intense colors, unique elements inspired by renowned artist and exciting furniture collection. Breaking with the conventional interior design paradigm, FUGE Design composed this bright, contemporary and colorful creation incorporating signature elements from some of the most prominent contemporary artists.
Fantastic combinations between the queen of dots (as the Japanese artist Yayoi Kusama is known) and the king of stripes ( the homage paid to the British designer Paul Smith) the mesmerizing textures are providing a unique base for the renowned furniture design brands, the vibrant colors and contemporary shapes and materials. A dynamic combination of Japanese dots, English stripes and French furniture – very international, what more can one desire from a unique, eclectic and trend-setting design?
The owner had started a collection of original furniture pieces with a classic designer PH Pendant lighting that jump-started a fascination with prominent modern artists and ultimately led to the creation of this unique décor. Using a simple and pure-lined rectangular circulation of the premises the designers created dynamic space with specific design themes, unique textures, and graphic expressions. The stripes on the ceiling of the open plan living premise (uniting the kitchen, dining and living room zones) are an obvious homage to Paul Smith, the renowned British designer, executed by the artist François Fléché.
The beautiful, rich in color and texture sofa in the center of this premise is a creation of Ligne Roset introducing the chic French hint into the design composition. Every piece of furniture or lighting element throughout the apartment's design composition has a strong character, trendy statement and unique presence.
In the further end of the main living space flow a little relaxation, reading or office corner is formed by another textural signature element – the colorful dots, a reminiscent to the unique design style of the Japanese artist Yayoi Kusama. Silhouette whit her unique color hair is included as a protagonist of the photo shoot composition.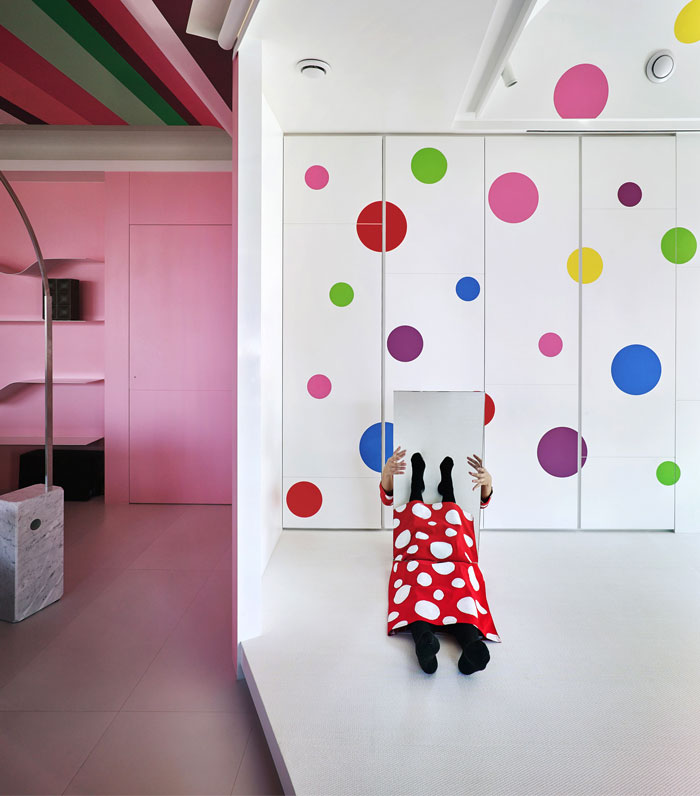 Here the classic shapes of the Eames lounge chair for Vitra laid on the dot inspired composition make the peaceful transition between the vibrant interior and the more organic design composition of the terrace. Outside the wooden deck, the lush plant life and, again, furniture and lighting elements create a relaxation oasis, juxtaposed to the urban scenery of the metropolis.