Called, quite suitably Cat house, this contemporary project in Shanghai, China has an interesting story behind the smooth, contemporary and elegant decor. The designers from FANAF undertook the challenge to converting a crowded tiny space – only 31 square meters hosting a couple of humans and 51 cats! into highly functional, light and cleverly inventive design composition.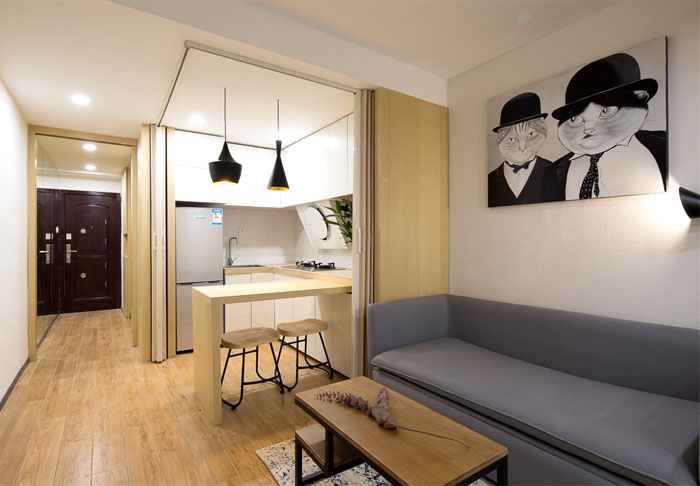 The challenge was a part of a popular television program Change Your Life strategy and the designers lived with the owners at the apartment for a day to get a better sense of the needs and possibilities for converting the living premises. Crowded, not well lit or ventilated, with a need for privacy and better hygienic and fictional distribution the conversion of this space was indeed a big challenge. But the result proves that with creativity, sustainable contemporary solutions and ingenuity the modern designers can turn even the tiniest urban space into welcoming and beautiful home.
Build-in, custom-made furniture (designed whit a strong inclination towards the purity of the wood – typical Asian stylistics), sliding doors and convertible space dividers, glass openings, ventilation and skylights, compose a premise of purity, light, and elegant modern functionalism. The small Zen garden with rocks, gravel, and a little tree becomes an exquisite and inspired little inside garden with running water, oxygen flow and light abundance that gives a sense of openness towards the outside elements without allowing the cats to get out and get lost. Using contemporary innovations and aspiration towards sustainability a water-efficient recyclable pump system was installed, with a pebble-filled stream of water running through the central courtyard securing the fluid of life for tree and cats alike.
The design expression of the whole composition is apparently strongly influenced by the Asian stylistics whit the transparent sliding doors, the purity of materials and lines and it even has a small tea-ceremony area for the owner – a tea lover. But with the bonus of modern functionalism, inventive techniques and elegant contemporary art additions space to become a trendy and breathable expression of the small urban living situation. A fantastic work of the designers – such a tiny space to host a couple and 51 cats in light, clean and welcoming environment, it proves that in modern design scene there are not impossible challenges. Photography by Lei Zheng, Xiaowen Jin