Aiming for the views the architects from Millimeter Interior Design composed this ultra-luxurious and intriguing house in the suburban district of Hong Kong while entwining the purity of the concrete and glass materials, which are the base of the house composition. Transparency and pure lines give the house it's contemporary, tranquil and even airy emanation.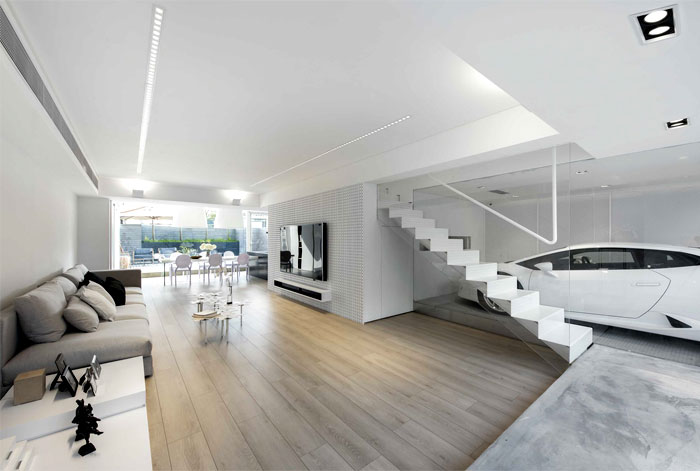 Exciting and unique architectural solutions like the transparent garage construction that makes the owner's car a part of the living premises interior. Or the perforated iron staircase that corresponds with the perforate wall cladding of the TV wall set in the living room, or the breathtaking views from the study, bedroom composition secured by floor-to-ceiling glass walls all these give the house its unique charm and architectural presence.
The interior design combines an abundance of see-through glass constructs and separations – that together with the bright lines of the furniture and fitting silhouettes give a light, elegant feel. The material palette also includes the warm and clean emanation of the wooden flooring, the pure whiteness of the primary design compositions and furniture and the dynamic tension between the modern concert and glass structures.
The kitchen- dining room is quite beautifully and elegantly arranged: the solid black cube of the kitchen island is juxtaposed to the pure aesthetics of the hidden behind white sliding doors kitchen cabinets and in the center – elegant dining table with two modem design pedant lamps becomes the main focal point. Multiple artistic elements: sculptures and installations, exciting design furniture pieces like the living room coffee table with its floating-ice composition, or the chair accents, yellow in the bedroom, white vintage in the kitchen, give the artistic and whimsical note of the design composition.