Symphony Solutions Lviv office went as far as possible in pursuit of natural, eco-friendly and cozy environment for its employees. The company aimed at escaping the concrete jungle and going for a green palette and the idea of bringing in the feeling of being outside. Being the office for a Dutch company, it has multiple symbols of the culture, like a full-size windmill at the entrance area and the imitation of a pavement.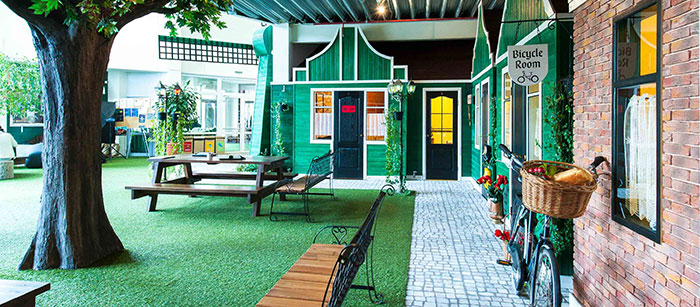 The hall of the office is called a park as it resembles one, having an oh-so-green faux lawn, wooden benches, a swing and a cow that`s upside down. Space is filled with daylight as the windows stretch from floor to ceiling. The primary work put into the design of the interior brought the company the nomination of being among 50 Best Workplaces by CIO Bulletin.
Zaanse Schans, a small Dutch village was the ultimate inspiration for the design ideas. There are nine enclosed meeting rooms that reflect the style of authentic local houses, fittings, and furniture. It was important for to embrace the simplicity and comfort of rustic interior design. That is why the material solutions for the furnishing were warm wood, natural color fabrics, vintage chairs.
The park area contains a stage with leather sofas, antique coffee table, and cabinet with arched glass and a fireplace. It all looks as if you are visiting somebody`s living room. Among the facilities that are disposable, but also serve as décor, there are bicycles, mugs, tulips and musical instruments all over the place.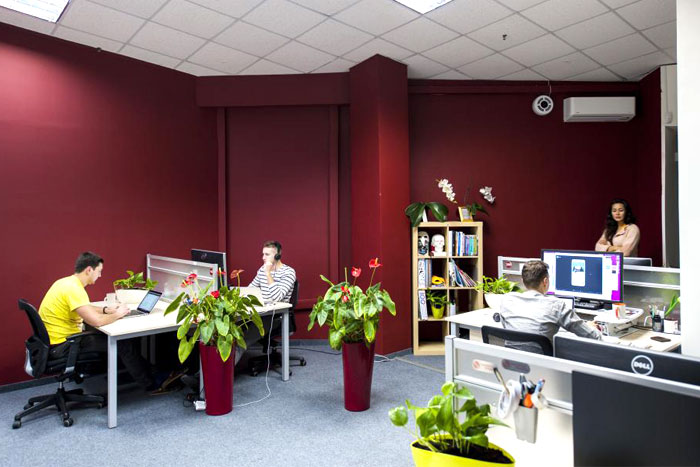 The meeting spaces range from big conference rooms to smaller rooms and phone booths, thoughtfully designed for calls, interviews and even some alone-time. The rooms are well-equipped but also contain cultural hints, for example, a lot of bicycles in the "Bicycle" meeting room.
Symphony Solutions supports the low-hierarchy corporate culture, and so there is a same-desk policy. The tables are four-section cubicles. The working areas are on three stories and are as interconnected as could be. Special attention was devoted to art and the combination of the countries doing business together. Some parts of the office display graffiti with national and traditional symbols. The chill-out area naturally reflects a traditional Dutch brown café as it furnished with classic chairs and tables and warm redwood shades, but most importantly photos of old Amsterdam on burgundy walls.