Breathtaking views from the 49th floor of luxurious central Bangkok, Thailand building require nothing less than exquisite interior design arrangement. Inspired by New York bachelor loft, maximally open towards the dynamic urban scenery and equipped for modern and sophisticated lifestyle this project of the ONG&ONG design studio offers intriguing experience and example of contemporary Thailand's interior design. Stylish ambiance composed of luxurious materials, renown design pieces and exciting shapes and custom-made insertions, all entwined with dynamic urban lifestyle and sophisticated vibe.
Reimagining the original layout of the apartment the designers aimed for full usage of the breathtaking view, clear separation between social zone – suitable for entertaining and vibrant social life and the private spaces: bedroom, bathroom, walk-in closed and work office – all hidden behind mirrored walls and sliding wooden panels and enjoying their own balconies and views. The exquisite materials palette combines the gorgeous smooth surfaces of monolithic natural stone, a conceptualized backdrop of warm timber wall paneling, and brass elements and tinted mirrors that add glamorous sparkle to the sophisticated mixture.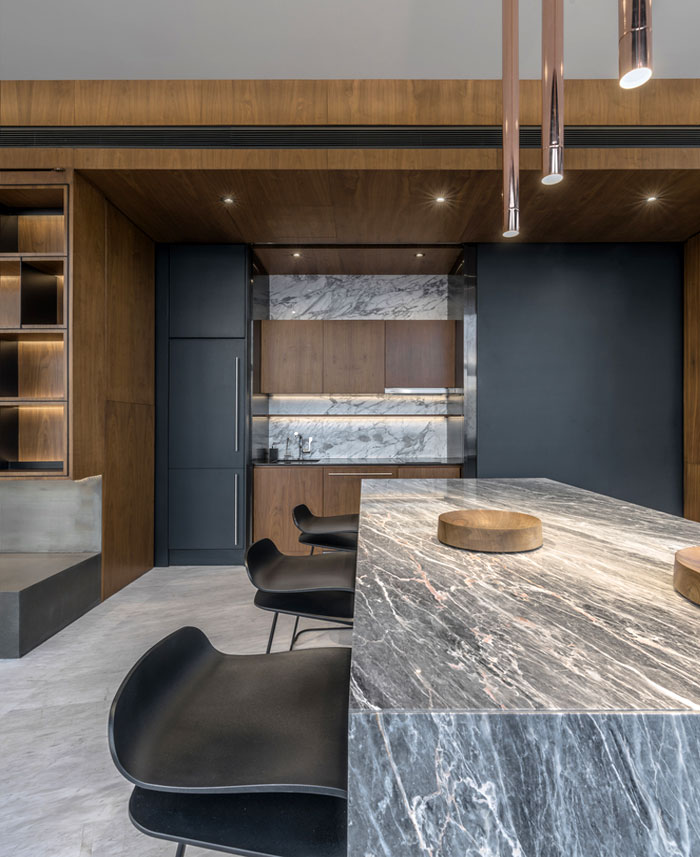 The masculine colors palette is dominated by soft grays, trendy blacks and the balancing warmth of the dark wood. This creates an ambiance, which despite the modernistic shapes of the design pieces, the vast windows that open towards the urban skyline and the fantastic emphasis of the monolith stone structures and cladding – still gives a cozy and welcoming feel to this bachelor space.

The textural richness of the design composition together with intriguing decisions and unexpected shape structures like the suspended half – a wall that separates the bedroom from the office space, or the wooden panels, wall structure that divides the apartment, and the urban feel of the design – create the characteristic contemporary charm of the space.