Signature design pieces and fresh ambiance in an apartment near the park in Sofia, Bulgaria. This luminous and elegant modern home by the Bulgarian design studio Fimera presents us with a well-measured combination of contemporary and classic styles. Located near a park, the apartment gives a fresh and elegant vibe that comes from the beautiful colors, materials and bespoke furniture selections.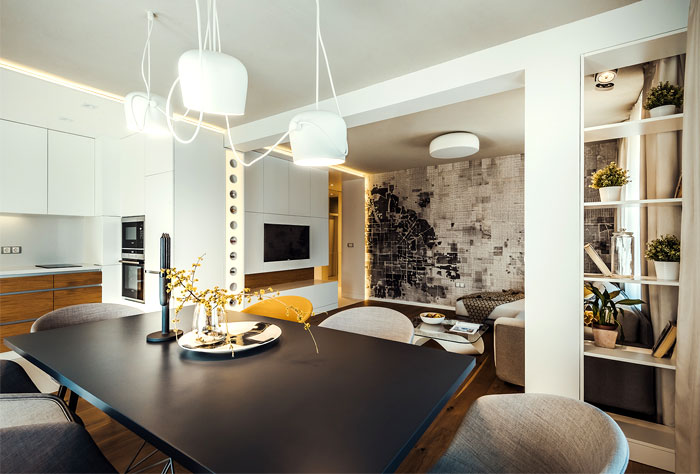 The combination of white laminate and veneer surfaces that goes throughout the premises is the exquisite and very stylish approach. It gives simultaneously freshens and warmth to the design expression and offers durable and easy to maintain surfaces. The color scheme entwines dove-gay hues, white luminosity and the natural colors of wood in elegant and serene combination. The mustard yellow accents give a golden touch and warm spirit to the color composition.
The main living premises feature open plan arrangement that combines sitting corner with a trendy large sofa that invites and offers quality relaxation. Dining table premise with classic elegance and behind the corner – modern and functional kitchen. The premises include comfortable and stylish furniture arrangement, characteristic accents, some gorgeous and memorable design pieces like the renown Bouroullec brothers lamps above the dining table, the cute presence of the custom made book shelf (that offers partial separation of premises) and of course, the beautiful wallpaper art-piece No Plane by Wall and Deco designed by Lorenzo De Grandis – dynamic and urban addition to the design composition.
The master bedroom is decided in neutral grays, and soft textures and that combination offers calm and ease to the ambiance but features some contemporary design furniture and lamps pieces that add youthful spirit and dynamics – a combination characteristic for the whole design arraignment. The other bedroom features an intriguing bespoke wooden structure that envelops the bed and the working corner in one cozy and dynamic unit. Bathrooms are functional and modern with a hint of luxury. The whole apartment design is sustained with an elegant and unique approach towards contemporary style and offers warm, artistic and somewhat intelligent personality.