The great technical, material and aesthetical quality by Porro design enter the 520 West 28th, the new luxury condo adjacent to the famous High Line park in New York planned by Zaha Hadid Architects for a Related Companies real estate group, applying to be the newest icon of NYC skyline with its spectacular curvy front.
The model apartment n.12, designed by firm West Chin Architects & Interior Designers (WCA) and furnished by the west / NYC home showroom, showcases a warm, modern style that pairs perfectly with the futuristic building, one of the last creations produced by Zaha Hadid's imagination, passed away in 2016.
With a rich choice in its home furnishing and contract proposals and the important presence of its systems, Porro is among the protagonists of the interiors: a rarefied space where wardrobes and containers made of precious woods are perfectly integrated with the light colored wooden floor and where the pieces of furniture become the decorative elements.
At the entrance, the visitor is welcomed by two sabbia matt lacquered hanging Sidewall bookcases: they frontally exhibit a continuous surface, standing out for its beauty, hosting in the lateral profiles a practical shelf unit.
In the living area, the eye is caught by the geometric pattern of the Modern + Load-It wall composition where the warm shades of Canaletto walnut meet precious materials: burnished brass of wall panels and shelves of the Load-It bookcase with the tortora lacquered Modern's hanging element and board, some of the many possible matchings of Porro's incredibly wide palette of woods, colours, and metals.
In the master bedroom, wood is once again the protagonist in two Porro's products designed by the Swedish Front: Balancing Boxes, a small table consisting of a series of red gum wood boxes balancing in the space and Inlay, a chest of drawers with two drawers covered with a decoration leading to a unique 3D effect, result of an accurate processing technique combining 4 different oak colors.
In the guest bedroom, two Bellevue mirrors by Austrian Soda Designers rotate above the bed giving diverse perspectives and refractions of reflected images. The light and functional solution, The Scrittoio Modern, in heat-treated oak, presents a writing desk surface with drawer, elegantly wall-mounted on a panel and matched to a tortora lacquered hanging open unit.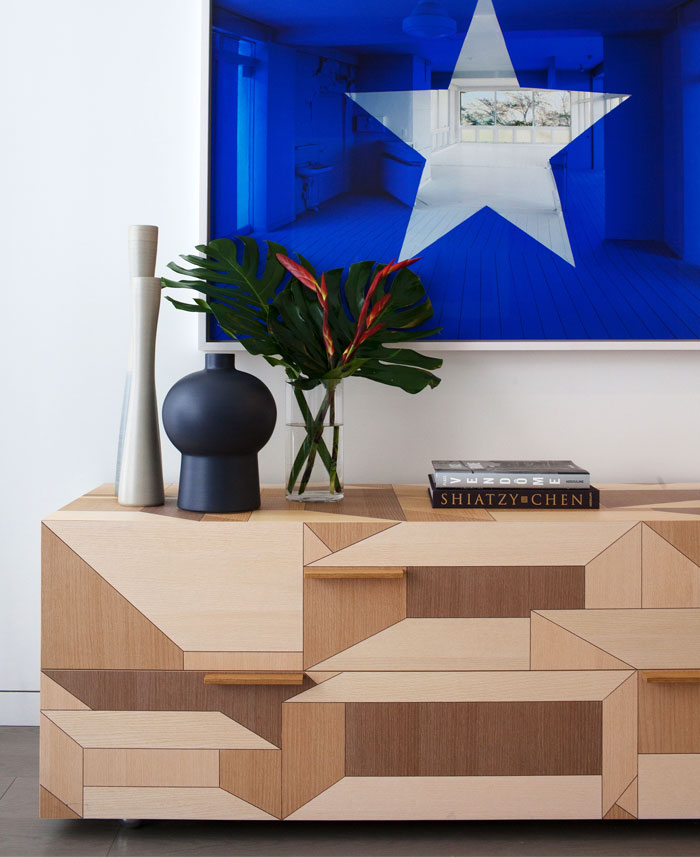 The supply culminates in Storage open wardrobes and walk-in closets for the entry, the kitchen pantry and the bedrooms, the quintessence of Porro's customization. Here Bespoke is not only expressed by the original and cutting-edge space solutions and by the accuracy of finishes, but also by the rationality and the optimisation of interiors so that the objects inside are exposed and valued, with the extreme attention to hidden details that make the wardrobe Porro different from all others. Elegant solutions in center hemlock or lino melamine, perfect to contain and display one's clothes, matching with the wide surfaces of Reflection mirrors with a bronze stained, painted metal frame. Photography by Larysa Sendich