Amazingly stylish combination of Asian minimalism, contemporary European design pieces, exquisite materials palette and spiritual search in one modern and memorable Taiwanese design.
Some contemporary designs are created with a deep understanding of the emotional and spiritual statement they make. The inspiration drawn from the Taiwanese hillside landscape for this project of Wei Yi International Design Associates, carries the serenity and internal peace of Nature (unveiling the design structure layer by layer and level by level like hills) and entwining the calm Zen spirit of Asian minimalism with European furniture and decor touches.
The place features open space living room arrangement where the kitchen, dining zone, and social area are interconnected by different levels, materials selection, and cladding and offer a landscape of layers and corners that unfold themselves in natural succession that gives strong visual impact. The color palate with its calm grays, charcoals, and beige is dynamically vitalized by contemporary red accents – tension and serenity entwine, just like in natural landscape inspired by Japanese graphics.
Applying low chroma color selection that varies in shades and tonalities the designers achieved horizontal extension of the limited space – here the dynamic play of the wooden grid ceiling, the vertical black veneer cladding and the matte gray floor tiles give visual dynamics and sophisticated materials presence. The minimalist furniture pieces become strong protagonists in the interior, for example, the red and blue chair by the Dutch architect Gerrit Rietveld plays the lead role in the quiet, dark background and offers fresh color and shape accent.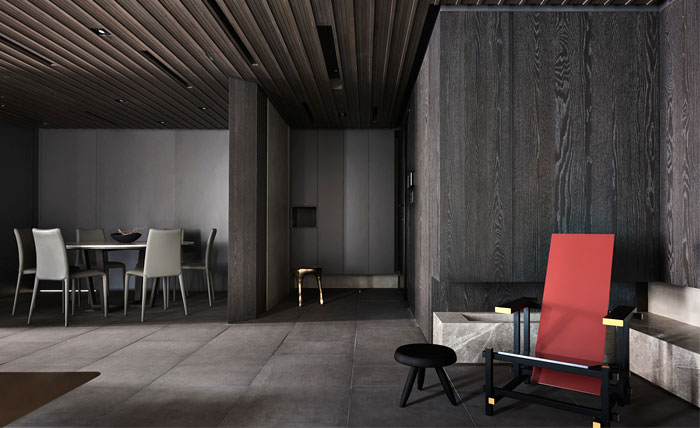 The old wood rustic presence of the two slabs provides dynamic contrast with the contemporary minimalism and the shining surfaces of the rest of the furniture arrangement. In the same way, the comfy leather cream couch is in dialog with the exposed concrete structures of walls and floor. And because the wine and tea are essential in the culture and the hospitality of the owners they become inspirational accents as well. The cool and contemporary presence of the shining brass coffee table is also sustained in minimalist and clean shape that accentuates the Zen moments of a tea time. Beyond the mat glass separation, the custom-made wine cellar offers modern and sophisticated touch to the decor. Photography by Hey!Cheese