Sometimes the house architecture and its interior design entwine and become a piece of art together with characteristic expression and dynamic spirit. That is the case with this contemporary Brazilian home a creation of Vão architects, with its unusual constructs and shapes, beautiful tiles cladding, rich textural surfaces and intriguing furniture selection the house gives contemporary artistic vibe that is wort exploring closer.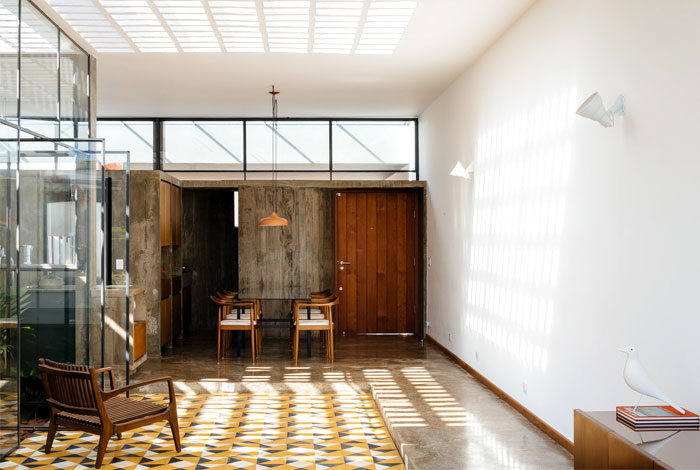 Alternating open and closed spaces, where natural light and reflections change according to the time and the season, playing with levels, openings, solids, and voids the architects composed unusual layout for this one-story family home. Some of the techniques adopt by the architect's wile assembling the house were inspired by the Brazilian architect Rino Levi.
We particularly love the glass and metal structure in the center of the living zone that envelops the inside garden introducing fresh and plentiful natural spirit into the interior. The juxtaposition of green accents and bright yellow mustard tonalities in the tile arrangement brings a dynamic and cheerful emanation to the decor. The focal point of the craftsmanship put into the creation of the tile mosaic combines perfectly with the vintage hint introduced by some of the furniture.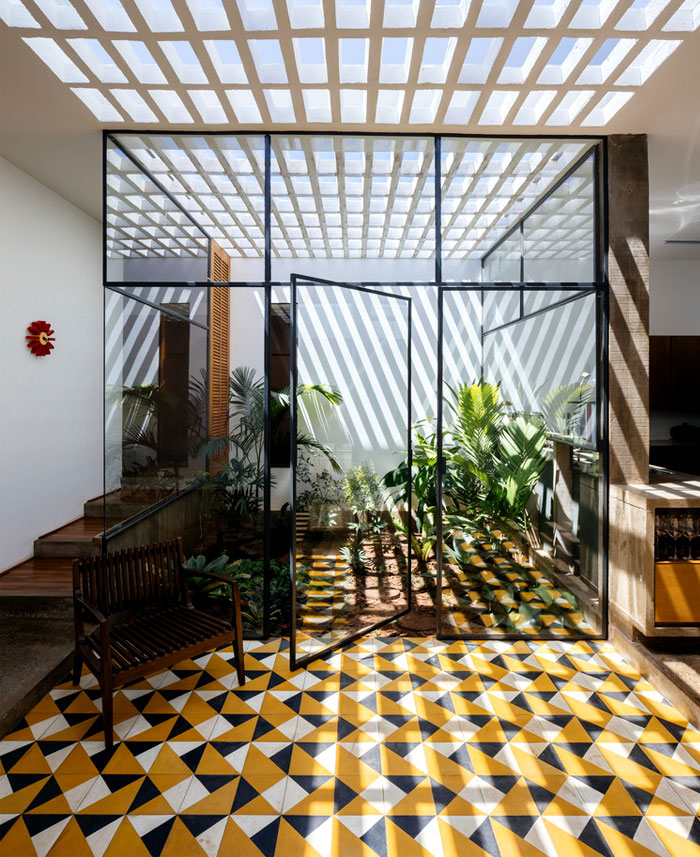 The same dynamic approach towards color and texture combinations can be observed at the entrance of the home where the rich red clay wall collides with the dark smoothness of the intriguingly shaped concrete ceiling and the accents of the green plants complete the composition. The kitchen zone interior adopts its textural combinations between the rich wood surfaces and the exposed concrete structures and flooring- which give it unique expression and rich textural context adorned with trendy lighting solutions and the fragile and bright presence of glass elements. Photography by Pedro Kok