A modern interpretation of Mediterranean style in the Old Town of Vilnius. The photographer and the author of the interior are Lukas Gadeikis.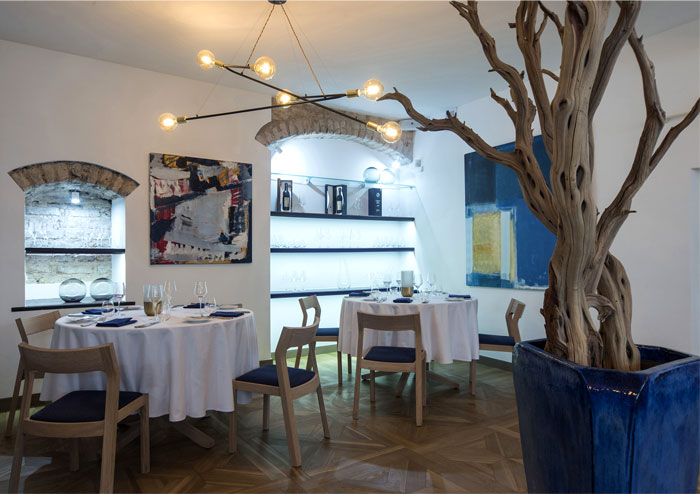 Restaurant chef Mickey Bhoite told me, "We shall have a modern Mediterranean cuisine here" – and that was when I had a clear vision of the restaurant's interior: a modern interpretation of Mediterranean style in an Old Town venue.
I tried to avoid overwhelming space with furniture and details and to follow Italian minimalism; these were my guidelines in choosing the palette of colors and materials. White, rugged, seemingly hand daubed walls are reminiscent of houses in Greece islands, while blue furniture tapestry, napkins, and draperies add to a marine atmosphere of the restaurant. Modern chandeliers reinforce the marine theme: some resemble an entangled ship rigging, others look like stars, falling into the ocean on an August night, others still look like metallic terns, gliding above a sea port.
Cool blue light highlights wide Old Town alcoves, dating back for centuries, and the floor, tables, and chairs of whitened oak look like they were just recovered from the bottom of the sea. Even the original bricks, which can be seen peaking through in places, look like they were weathered by Mediterranean winds and sea. Even though the restaurant is hidden in a courtyard behind narrow Old Town windows, it is nevertheless bright and glows with white cleanliness and modernity.