This small contemporary apartment located in Vilnius, Lithuania was composed and designed by Me2architects in a short time and with a limited budget. Presenting us with fresh and almost minimalist design combination in characteristic color palette the designers achieved something usually complicated – simple and light design composition with character and memorable presence.
The apartment is with restrained space division – the central premise that combines living room, dining and kitchen area accessible directly from the front door (a typical nowadays urban apartment layout) a small bathroom and one bedroom.
The designers introduced some clever custom-made solutions (like corridor closed that host the washing machine in secluded and space – saving area), some characteristic textural combinations like the furry carpet and dark curtains in plum purple that introduce cozy and warm sensation to the decor – and of course some trendy and modern furniture and lamps choices with light and elegant shapes.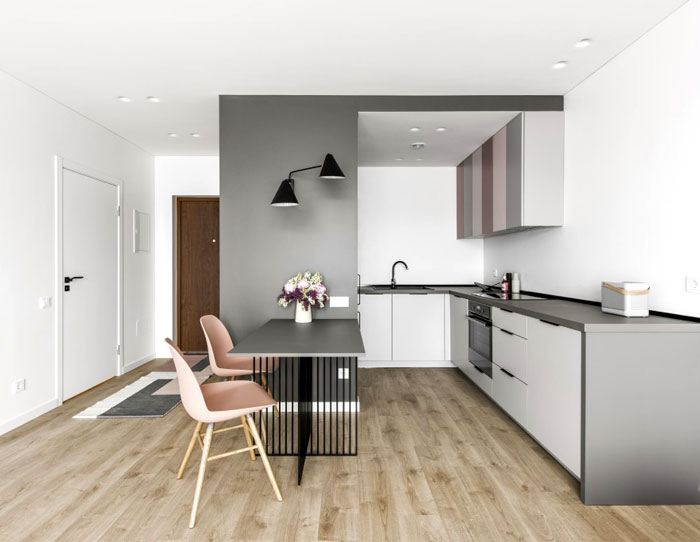 But the thing that creates the apartments unforgettable character and captures the heart are the color combinations that adorn the premises interconnecting the different components of the design: form custom made cabinetry to focal point pieces of art, forms small design details (like cushions) to big design solutions like cladding and cabinetry. Entwining delicate, pastel pink and greens that enhances and softens the white, with a wide variety of gray hues the designers achieve a combination that is fresh and at the same time is calm and relaxing. Photography by Leonas Garbačauskas