Renovating this 60 years old house in Taichung, Taiwan the designers from T.M. Design Studio (we have introduced to you a few times before) were charged with not so easy task to create a Dual Concept for space – a cozy home for a family and a work office for the owner. Combining row industrial and contemporary materials – like concrete and black metal frames with the warmth of the pine wood and at the same time respecting the original features and the history of the building the designers compose a functional and stylish home.
On the first floor are located the cozy living room premises in an open plan layout – full of light and furnished with modern design furniture- big, soft and inviting sofas in bold colors fallows the latest trends in living room furniture design. Intriguing custom made shelving allows the flow of ling to penetrate unobstructedly into space. The kitchen although small – secluded behind an L shaped kitchen counter offers a beautiful combination of colors and materials: the white shine of the tile composition entwines with the warm presents of the caramel wood, the discrete sparkle of the brass elements and the black solidity of the custom made cabinetry.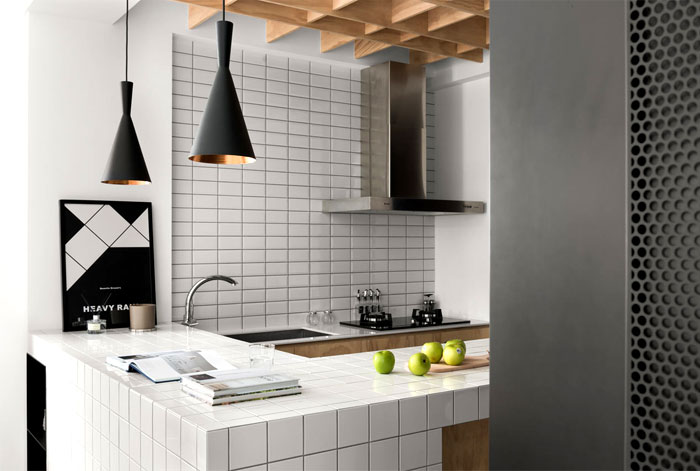 The concrete staircase becomes not only a major focal point of the design but also secures the continuity of the materials palette and the design concept between the two floors of the house. The bedroom design combines the industrial austerity of the concrete slabs with the warmth of the herringbone parquet and offers cute and inviting furniture accents- like the mustard yellow arm chair. Although small, the house offers functional, modern and welcoming space for life and work.