This amazing contemporary project of AM Architects began its life as a conceptual reflection of its location, its historic and natural surroundings. Located near the first settlement site of Victoria, Australia – the Sullivan's Bay; the beach house present its austere and robust facade as a part of the landscape, the harsh history and tradition and relaxes and becomes more open towards the natural environment as it approaches the water body.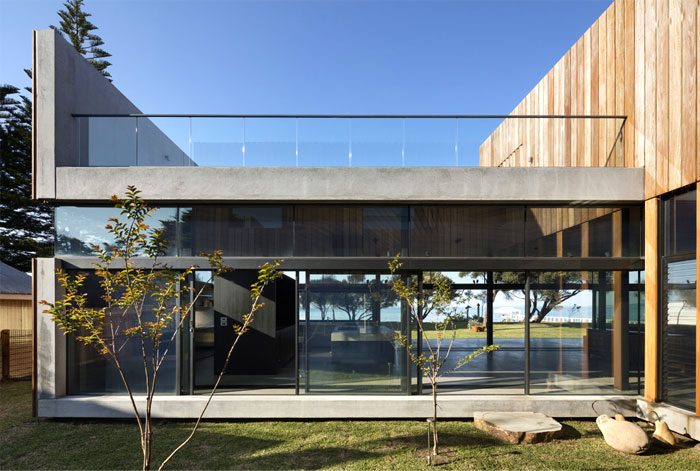 Entwining concrete, glass and extensive timber cladding the architects created a tension between privacy and openness, the adventures spirit of a ship and the functionality of the local coastal structures giving a new reed to contemporary architecture and sustainable environment.
The interior of the house is modern, functional and with clear-lined and elegant aesthetics. The architecture of the house, the characteristic materials palette used by its creators, the spacious and sunny premises prevail in the decor and define the dynamic character of the house spirit. Large paintings, intriguing furniture, and custom made structures compose the main living premises decor. In the kitchen, the characteristic kitchen island and the combination of black structures and framing together with the clean aesthetics of the gray concrete becomes very expressive and contemporary composition.
The beautiful timber cladding of the exterior, as well as the interior (including the amazing ceilings) in combination with the concrete floors and the connecting black metal structures, creates a characteristic continuity between the premises of the house and as the architects say is conceptualised as outdoor space; earth below, sky above waterline directly in front.
The same combination of minimalist furnishing, spacious premises full of light and exposed to beautiful views, modern design and trendy, elegant pieces compose the rest of the house decoration: the bathrooms are modern and luxurious, the bedrooms elegant and inviting; and all is laid on the base of a great architectural construct and unique character.