The project for the refurbishment of a charming farmhouse dating back to the 16th Century and situated on the crest of a marvelous hill in the heart of Siena's Chianti region Tuscany, Italy overlooking vineyards and woodland was the focus of the Lenzi + Baglini Architetti architects practice. The hinge-pin for the architectural and interior design project was to blend contemporary requirements with existing vernacular constructions, with the aim of creating a domestic environment in keeping with local traditions.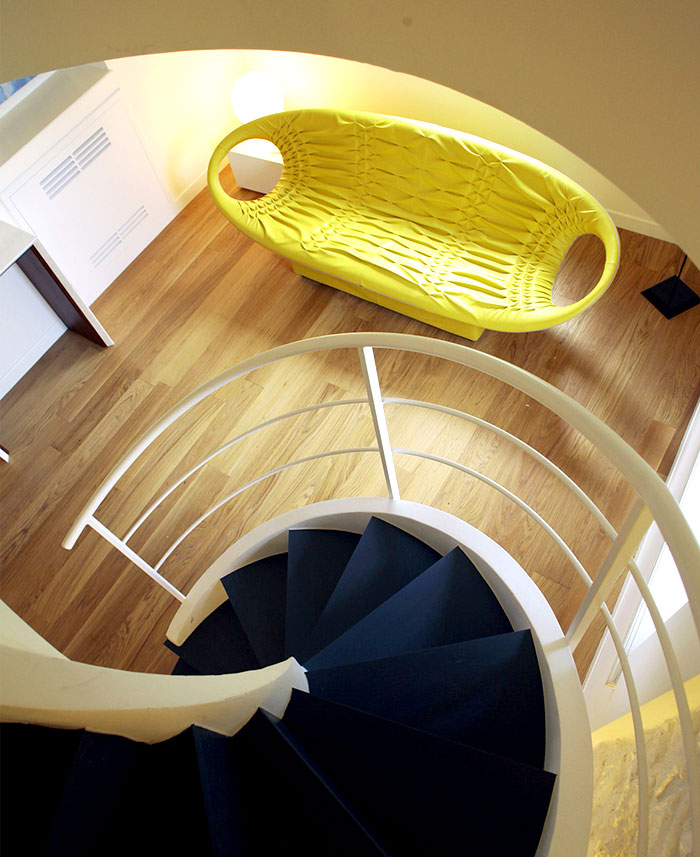 The design was developed according to two fundamental guidelines:
– to make the interior spaces modern and functional, using natural light obtained thanks to large cut-outs and apertures in the existing masonry;
– to enhance the value of typical traditional rural architecture with a contemporary
twist.
Distributed over two floors which follow the sloping movement of the crest, the farmhouse spans a double volume linked together by a modern floating staircase which joins the living environment situated on the first floor with the bedroom area on the ground floor.
On the first floor, the entrance hall opens out onto a large living room covered by a Tuscan dual-pitched roof over a vaulted ceiling stained with white chalk like all the ceilings throughout the house and dominated by a massive truss used as a top frame for the traditional stone fireplace; from here, two portals beside the chimney lead to the kitchen, a passageway to the second living area, which stands out for its all-glass wall with more apertures, conceived to enhance the concept of "clearing out and light weight" that distinguishes the entire interior, leaving the surrounding landscape to play the starring role.
The charming square-shaped tower, the "heart" of the house's private space, links the master bedroom situated on the ground floor to the living room and private studio housed in the attic, while an elegant spiral staircase with two reinforced concrete ramps produced by Rizzi – staircase diameter 160 cm; with total white structure and handrail and brushed oak-wood steps stained sablé grey. With a contained diameter yet a strong scenic effect, the dynamism of the staircase counters the powerful solidity of the perimeter walls which have been left with their face exposed and stained with chalk.
On the ground floor of the house are the bedrooms, the reading area opposite a covered veranda overlooking the garden and the wellness area. The contemporary interiors are furnished with designer pieces made to the designers' specifications. Photography: Massimiliano Orazi