This unique architectural project located in a small wood clearing in the forests near Cape Town, South Africa is something that represents the global tendencies in search of a close connection with the "roots," sustainability and a strong presence of Nature.
The accomplished architectural project carried out by Malan Vorster Architecture Interior Design is inspired by the tree-rich property, and the small contemporary house compliments the majestic beauty of the forest without compromising with the innovations and creative spirit of modern architecture. The architect's point that inspiration was drawn from the timber cabins of Horace Gifford and Kengo Kuma's notions of working with the void or in-between space, but their project presents fresh and unique spatial and aesthetical arrangement of spaces, light, and tactile sensations.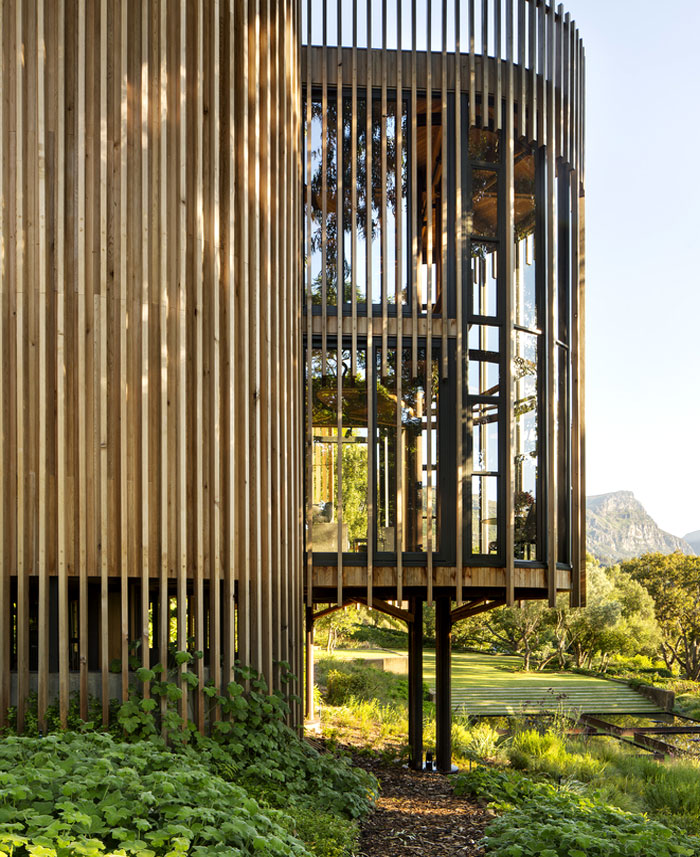 Organized as circles and cylinders around the four crones of a square the house presents the dynamic correlation of levels, shapes, voids, and solids as well as mesmerizing vertical expression and untypical constructs. The geometrical expression of the home (with its metal rings, timber beams, branches and glass structures) has an inspired aesthetics where the square relates to the North/South site geometry and the four circles connect the architectural construct with the organic and natural surroundings.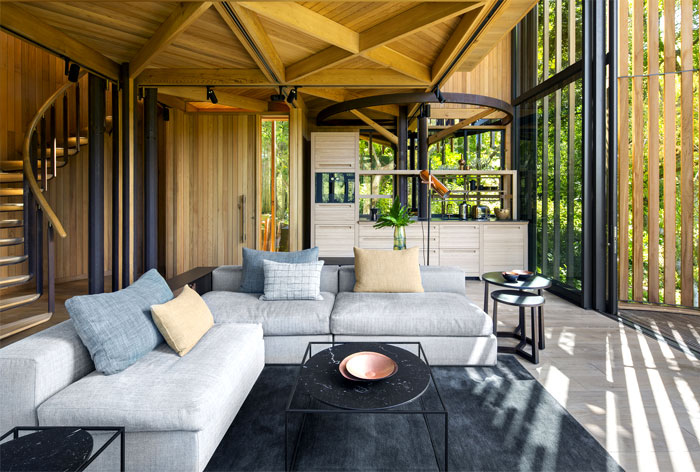 With the fantastic architectural expression of the house, its gorgeous natural materials palate and entertaining views, the interior are naturally simple, clear lined and inviting. Rich textures, soft components, and pastel tonalities evoke cozy and welcoming atmosphere. Functional and contemporary the furnishing is restrained and elegant, leaving the architectural construct and the surrounding natural beauty to be the main protagonists in the home's ambiance.
Clever entwinement between laser-cut and folded Corten steel, timber floors beams, western red cedar branches and their exquisite connection with hand-turned brass components give the mesmerizing detail attention of true craftsmanship. The glass facade and the half circles of some of the premises live the feeling of suspended existence on the edge of the forest. This lightness and unique feeling have many faces and different expressions throughout the house- even the access is secured only through suspended timber and Corten steel ramp, the building itself lightly touches the ground, and a plant room is located at a ground level between the building and the soil. Unique, cleverly designed and with the strong characteristic presence this forest home is worth remembering. Photographt by Adam Letch, Mickey Hoyle