This new four-level house on a steep street in San Francisco's Noe Valley neighborhood is designed to respond to opportunities presented by its site and situation, including the morphology of neighboring infill urban fabric, and possibilities of a walkout rear yard and distant views in the downhill direction to the east and north.
The house's interior is organized around a central light well and stairwell. The lightwell is positioned about an existing lightwell of the neighboring house, Situated at the heart of the home, the lightwell and staircase act together to bring in natural light and views to the sky. They also become the spatial hinge between living/dining and kitchen/family on the main living level and between kids' and parents' bedrooms on the upper sleeping level.
The angled facade is designed to adapt to different setbacks of the neighboring houses and in response to the downhill views to the northeast. Exterior materials include a wood rain screen of stained bright cedar vertical boards alternating with blackened spacer boards, aluminum windows with clear cedar casing, and cast-in-place concrete site work.
The lower level has a media room and guest accommodations behind the garage, connected to the rear yard via stairways situated along both sides of the site. The main level is entered a few steps above street level and houses the Living Room, Dining, Kitchen, Breakfast nook and Family Room in an open arrangement connected with the rear yard.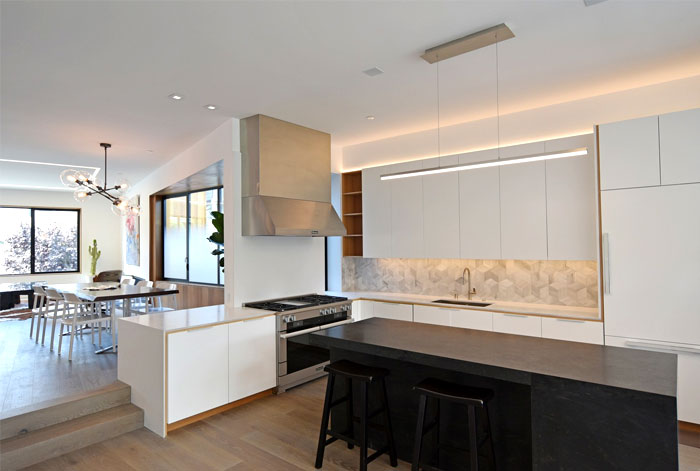 The back yard acts as an extension of the main living spaces accessed via a large, pocketed sliding glass door opening in the Family Room. The rear garden design incorporates a wood deck, stone tile terrace, built-in benches and fire pit, and a stained cedar fence with built in lighting and planter pockets. Bedrooms and bathrooms are located on the third level and flank the central lightwell and stairwell. The bedrooms have corner windows capturing views to the east. The stair culminates at a roof deck on the top level, offering panoramic views toward downtown San Francisco and the Bay. Sustainable design features include a 6000-gallon rainwater capture tank beneath the back yard, integral graywater treatment system, and photovoltaic solar array on the rooftop. Photography by Bruce Damonte