Located on the shores of Lac des Piles, Canada, Atelier Pierre Thibault has constructed a wooden property for a young family to vacation and enjoy a peaceful lifestyle all amongst a background of nature and water. La Grand Passerelle is made up of two large volumes anchored against a gentle slope, generating a luminous inner courtyard delimited by the forest.
Atelier Pierre Thibault planned for the first volume to act as a screen to the street. This space contains a light-filled training room located under the garage, which overlooks the private grassy courtyard. Below, a second volume accommodating the private rooms seemingly float above the window-wrapped ground floor. The connection between these two buildings is made by an internal footbridge with glass windows located on the second floor. This bridged hallway penetrates the interior spaces of both sides of the house and projects itself towards the lake.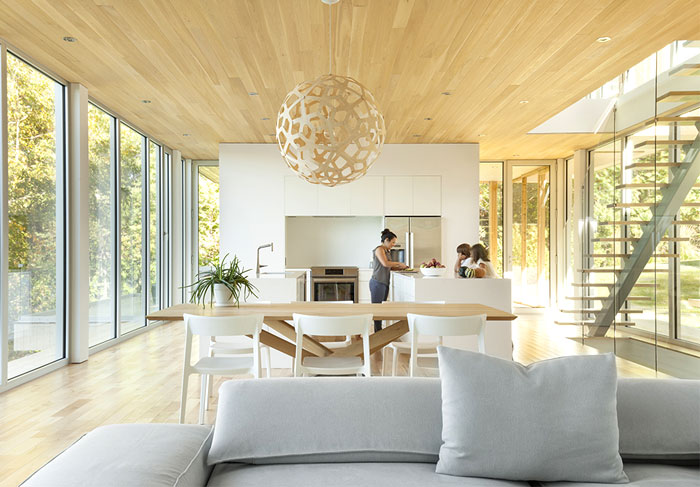 Due to the sun-drenched site, natural light bathes the interior space and the play of transparency through material connect the different rooms to the lake. Access to the property is gained first through the upper floor for the floorplan to unfold as a sequence of spaces starting from the living room, the kitchen and finally to the lower level that opens generously onto the backyard and the dock.