This family apartment with its spectacular parks' view is located in Kaohsiung City, Taiwan and brings us a modern and dynamic interpretation of classic style and comfort. The clear lined and elegant decor designed by HAO Design entwines the light and dark, the black and white with the same ease and serenity with which combines functionality and artistry, comfort and trendiness.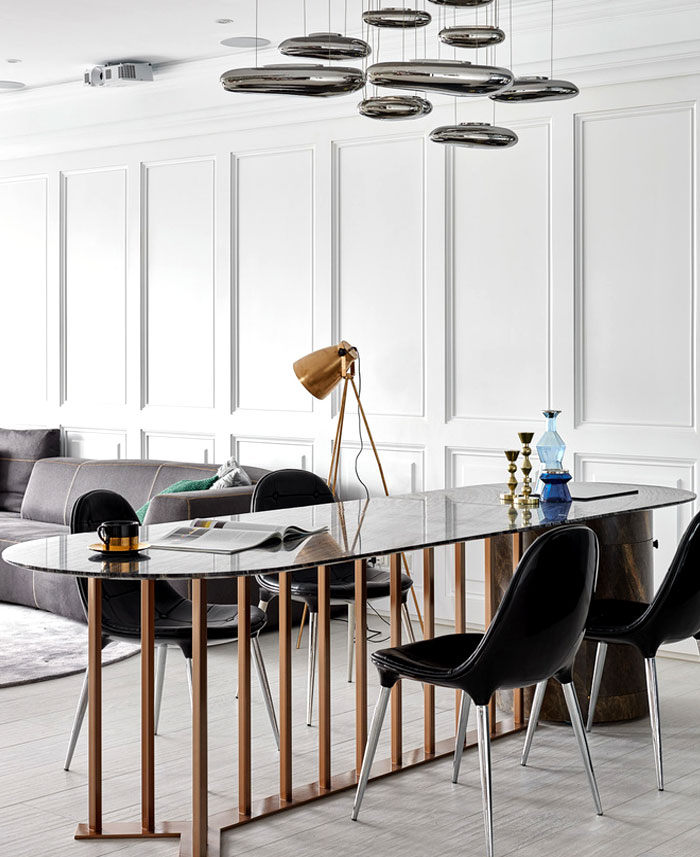 The main living premises are designed in a light open floor plan which invites interaction between the family members but also secures thematic corners for personal enjoyment. The arched windows soften the pure white canvas of the space and create a visual reference. The abundance of natural light reflects from the white surfaces and creates a serene and tranquil atmosphere for the family.
Combining modern shapes, shining surfaces, trendy art pieces, and design with more classical features: like the white wall with its European-style cornices, or the soft, cozy furnishing and elegant marble additions; the designers compose a space in which each member of the family can find ease and comfort. The kitchen zone is dominated by its whiteness: like most of the premises in the apartment; and features functional and clear-lined simplicity.
The bedrooms of the apartment are designed about the personal preferences of their inhabitants darker hues in the master bedroom introduce warmer and cozier environment, simplicity; furnished with leather and metal ornaments for the boy and casual coziness with cement textured backdrop for the girl. Trendy brass details adorn most of the spaces in the apartment and together with artistic lamps, a piece of art and soft textures compose the unique character of the decor. Photography by Hey!Cheese