Architects Paul de Ruiter and Chris Collaris have transformed a former private museum in Rotterdam into an energy-neutral townhouse, featuring outdoor spaces on each level of its remodeled rear facade.
In one of the oldest streets in Rotterdam, we designed the renovation of a monumental townhouse. We transformed the former museum of Kralingen into a luxurious, fully energy neutral home. While maintaining the existing framework of the villa, we completely restructured the floor plans.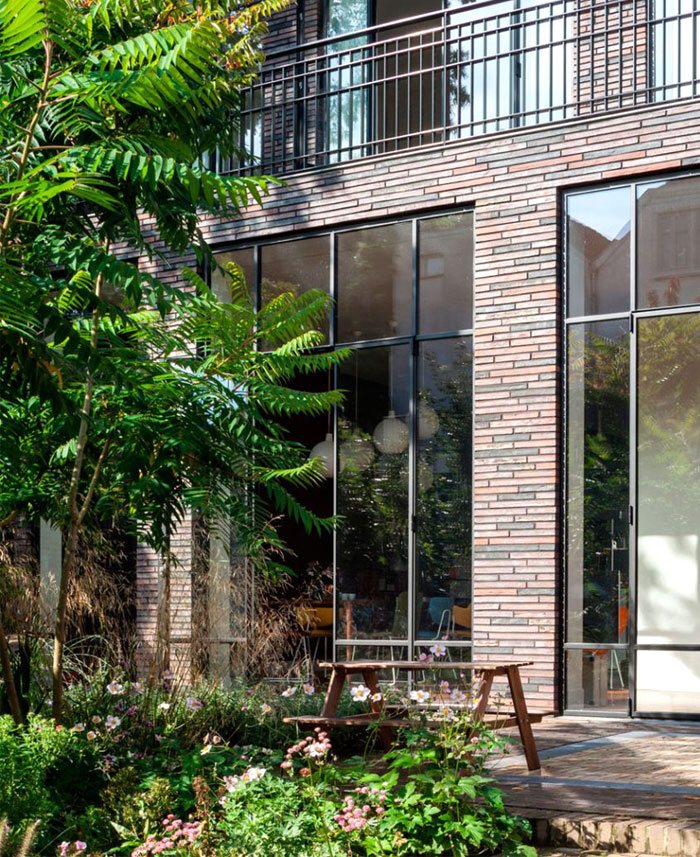 The new villa easily blends in the protected cityscape rich of historical value. However, seen from the garden side the home has an entirely different appearance. The facade on the garden side is characterized by pure and minimalist detailing. The stepped rear facade finished with balconies and loggias, is composed of slender steel frames combined with large glass surfaces and hand-shaped Kolumba bricks.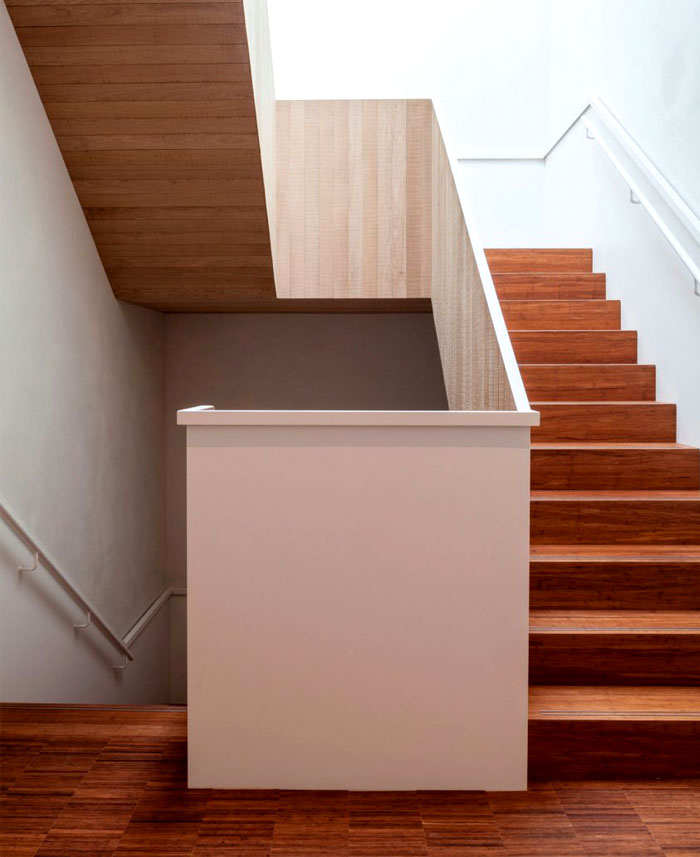 The client wished to improve the quality of the existing building volume. The design objective was to maintain valuable elements of the property and use them for the improvement of the living experience. On the ground floor, we situated a large kitchen which is surrounded by two sitting areas. The living and dining room at the rear side of the townhouse both look out over the garden and are split by a fireplace. We connected the ground floor to the upper floors via a bright staircase. On the first floor, the bed- and bathrooms can be found. We positioned the guest room, the office and a lounge with wellness area on the second floor.
Our starting point was realizing a villa in which the owners could live pleasantly without using lots of energy. The installation engineering became one of the most challenging parts of this renovation. We combined six independent energy sources to regulate the indoor climate. We managed to implement wall and ceiling activation to heat the house with a temperature as low as possible and to cool with a temperature as high as possible, which saves energy, together with a heat pump, underground storage of hot and cold air flows, and two fireplaces. One of these fireplaces is connected directly to the wall and ceiling activation system.