Artistic, fresh and contemporary, composed from organic materials palette the new headquarters of Birkenstock designed by Melbourne Design Studios present a luminous environment for working and meeting customers.
The renovation of the gorgeous red brick building offers craftsmanship and quality based on the principals of sustainability and health. The historical heritage of the building is respected and underlined by modern-day ingenuity and elegant naturalism.
The premises are full of natural light, furnished with bespoke constructs, the architecture is artistic and intruding and the incursion of natural elements: plants as office screen partitions, the shopfront uses natural grass for flooring, carefully selected greenery that services as "air- purifiers"; secure a healthy, warm and welcoming environment to visit or spend your working days in.
The warm and contemporary design, with a hip feel and a holistic approach towards sustainability, offers multiple spaces that serve as wholesale offices, workshop, courtyard, retail space, online store, and a warehouse with newly inserted mezzanine storey as a wholesale showroom. The color compositions are relaxing and elegant – whiteness and light wood entwine in one welcoming mixture spiced up by the green elements and the warmth of the red bricks construct, dark metal elements frame the whole design composition.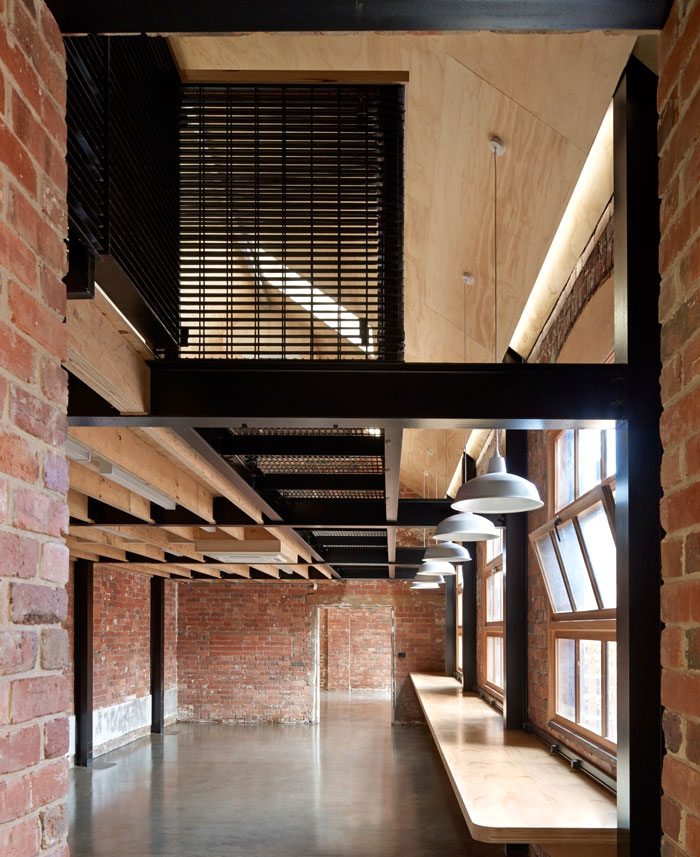 The layout encourages spontaneous staff meetings and collaborations in mild, open and natural environment that has the dynamic edge of modern times. In this case, the modern and inventive architecture follows values – the values of healthy lifestyle, craftsmanship, and organic materials surrounding. Birkenstock are natural, handcrafted and aesthetically beautiful. Both natural materials and nature itself are an integral part of the design. Photography by Peter Clarke