Art, luxury and eclectic mixture of historical heritage and trendy modernism – an amazing renovation of Italian apartment – a project by Key Cucine, in collaboration with Benedini Associati. The magnificent arches, frescos, columns and gallery-like exposition of Palazzo Ducale a Mantova historical building are undoubtedly the first impression and focal point for any observer. But after second glimpse the juxtaposition between the historical layout and the contemporary design of the apartment becomes apparent that the interior design possesses elegant lightness and unique, playful character that is perfect for its architectural shell. This new read on the other ways heavy historical heritage of the space creates balance and allows the inhabitants to feel welcome and comfortable in their home.
The juxtaposition between contemporary minimalism with urban dynamic taste and the artistic, almost baroque richness of the historical shell are cleverly handled by the designers and balances with modern art pieces that stand on the border of up and down (frescos ceiling and metal and glass interior decor beneath). A perfect example of this balance is the bathroom – trendy brass sink, minimalist bathtubs and appliances and gorgeous rich painted ceilings mediated by pieces of contemporary art.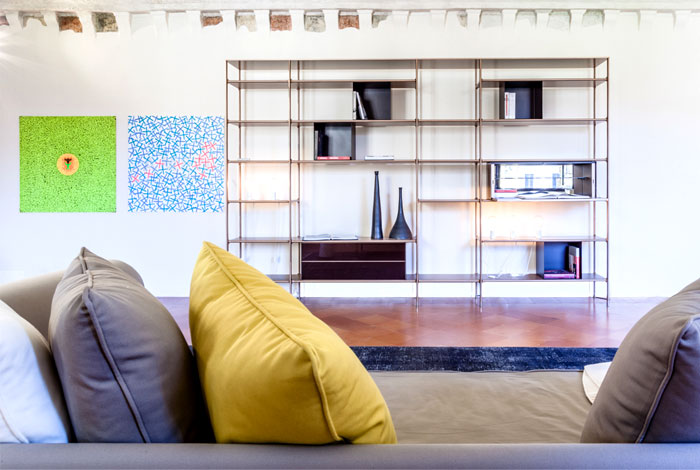 The same configuration – rich history, fashionable, bold furnishing and design elements balanced by pieces of contemporary art are typical for all the premises of the apartment. The bedroom with its unusual glass-metal closets, which create transparency and dynamics in the privet layout.
The living zones with their soft textures and furnishing arrangement laid on a pure hard ceramic surfaces and elegant, minimalist pieces of furniture. The stunning marble table in the dining zone, the modernistic functionality of the kitchen. And above all this functional art fashion, the rich history of the place. An entwinement between romantic story and dynamic urban lifestyle – so hard to achieve, so mesmerizing when reality. Photography by Davide Galli