How would you feel if you live in a mansard right beneath the starry sky? Surrounded by magnificent organic materials palette, an abundance of light and soft textures, in a place that emanates contemporary elegance and old time charm simultaneously? Tranquil and content, we bet. This project of Superpozycja Architekci design office located in Gliwice, Poland had turned the old attic into a magnificent contemporary composition of space, light and rustic charm.
The large skylights and the angle of the wall in the living area emphasize the height of ceilings, refuting the stereotype of cramped and dark space under the roof. Charming and playful design solutions:like the passage cut in the wall for the cat, or the vintage individuality of the wooden beams, or the brick walls painted white that give a frame for the spaces; create personality and signature design for this small home.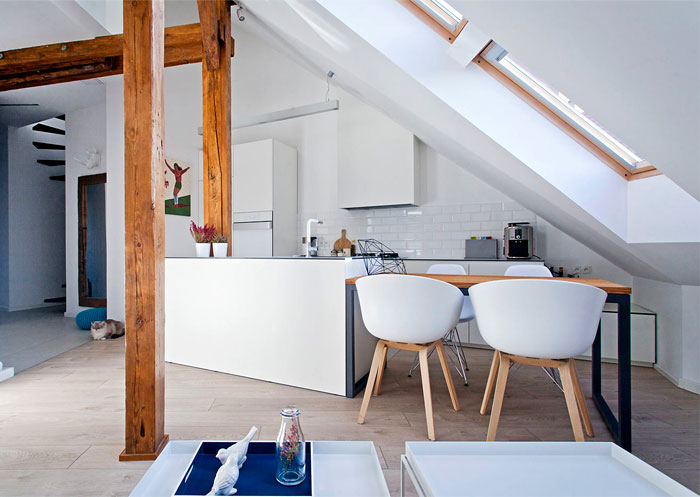 The dominant white canvas of the color composition is enlivened by sporadic splashes of color mainly fresh and playful hues of blue and gray. The material palette is natural and trendy: wooden fittings and solutions, even in the bathroom – supplemented by the original brick construct, bring warm and homey sensation to the decor composition. The bedroom and the bathroom located on the second floor of the mezzanine are fresh and contemporary. Clever design solutions: like the metal spiral staircase and the upholstered wall in the bedroom or the trendy black wall in the bathroom, supplemented by fashionable lamps and lighting solutions; create an atmosphere of fashionable yet stylish home arrangement. A place that exudes cozy welcoming atmosphere and playful modern design. Soft and inviting, light and charming.