How to turn the massive, innovative and contemporary home project into playful and romantic beach villa with delicate implications of traditional Pacific seaside architecture? The architects from Bernardi + Peschard arquitectura succeeded in this challenging task, creating one modern, elegant and comfortable home that has an open dialog with its magnificent surrounding and romantic hints in its current core.
The magic of this charming home starts with the garden where the lush Mexican seaside vegetation is intersected by playful and characteristic pathway made of giant wood blocks that lead to the central volume of the house. This space is open, bigger than the rest of the architectural constructs and makes the connection between the different elements of the housing project. With its elevated pagoda-like roof the main living area makes a reference to other more Pacific Island like architectures, and connects the beauty of the privet beach with the tranquil and relaxing atmosphere of the house shelter.
The organic materials palette is strong and makes the spirit of the home unbreakably connected with its natural surroundings. The architects used even local sand mixtures for the creation of the concrete poured in the construct. The warm home emanation of the interior design is an entwinement between the natural materials palette, the light textiles, the contemporary furnishing and art piece that adorn the premises and of course with the magnifies natural elements that compose the home's surrounding. Parota wood, stone constructs, polished concrete floors and palm tree coverage are mixed to create one o, so inviting and cozy looking home. The massive volumes (with their incredible cross-ventilation capacity) are looking warm and homey thanks to the material selection and the traditional finishing. Low comfortable furniture in light (caramel and white) color palette evokes the feeling of relaxing, almost spa sensation.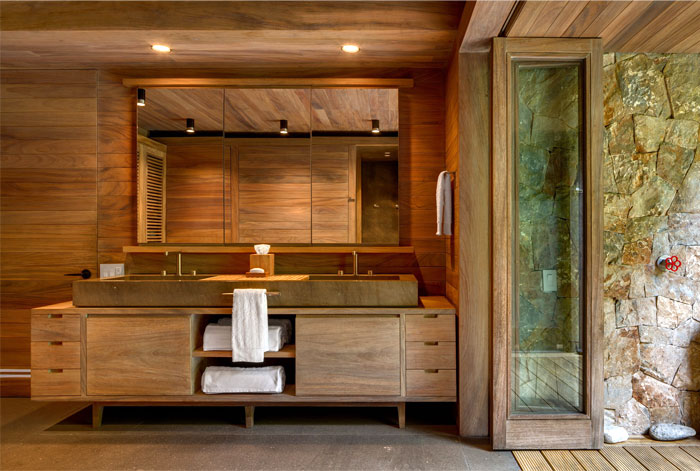 But still, no matter how connected with its pacific surrounding and romantic spirit the home is also modern and functional. Beautiful pieces of furniture (with light and elegant structure), soft textures, contemporary pieces of art and intriguing shapes of lamps, architecture, and furniture compose an atmosphere of harmonic dialog between traditional and modernistic.