Mazi – in Greek means together and the designers from Gasparbonta had done precisely that: brought together a rich material palate and eclectic fujyn of modern and classy, simple and gorgeous in this Greek cuisine restaurant located in Budapest, Hungary.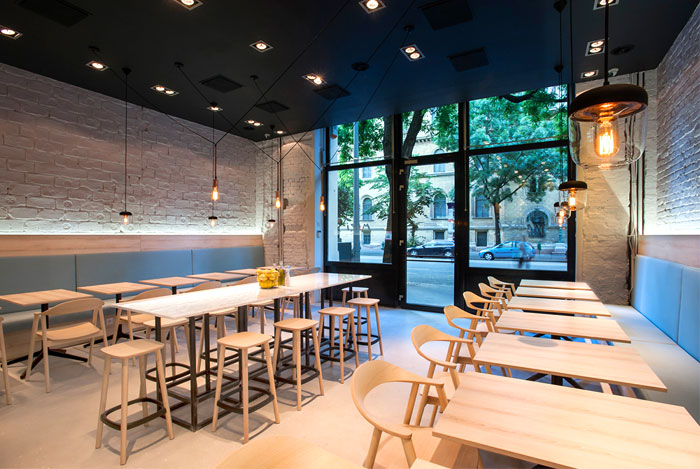 The material palate is rich and entwines stone and concrete, wood and brass, marble table top with iron legs, muted light with bright colors. The restaurant isn't big but combines the welcoming, cozy atmosphere with fresh, contemporary spirit. The open kitchen greets the visitors, the elegant wooden furniture and the bespoke fittings of brass and metal lattice add unique character and the lighting scheme with its geometrical abstractions: like the wings of a flying bird – binds the interior decor composition in one whole and complete scheme. Clear lined stylistic, muted light, pastel colors and trendy brass, and wooden elements compose one inviting and delicate ambiance where people can enjoy the Greek cuisine. Photography by Bálint Jaksa
Greek cuisine has been present in Hungary for decades now, mainly as a street food. These last few revolutionary years in Budapest gastronomy life highly anticipated the turn up of a bistro-bar style Greek cuisine. MAZI ('together' in Greek) is the mixture of this need, a family-style milieu, and graceful, greenish mood with the smell of the ocean, captured with the means of contemporary design, in the heart of Budapest.
The interior design concept is a mixture of really old and new, simple and modern mixes up with honest materials. We have created a fresh, light, airy ambient with sophisticated lighting solutions, and geometrical abstractions like the pendant lights shaped like a flying bird's wings or the suspended arbor in an iron frame. The contrast between objects and materials makes this a complete system, like the brutal marble table with metal legs and the thin wooden chairs next to it or the cleaned existing brick walls and the new, glossy, smooth concrete floor.