A real contemporary jewel of style, artistry and play of opposites this project by Tom Ferguson is a joy for the senses and offers a rich variety of textures, materials, and stylish design combinations. Take a look and enjoy.
Combining the latest tendencies in colors, materials and furnishing with the delicate aristocracy of an Australian architecture and design the place is an emanation of a comfortable home and artistic taste. The gorgeous wooden flooring, the vintage pieces of furniture, the beautiful paintings supplemented by the delicate aristocracy of the ceiling cornice and decorations are only a small part of this artistic interior design. The mixture of old romance and latest materials and fashions bring unique character and individuality to the decor.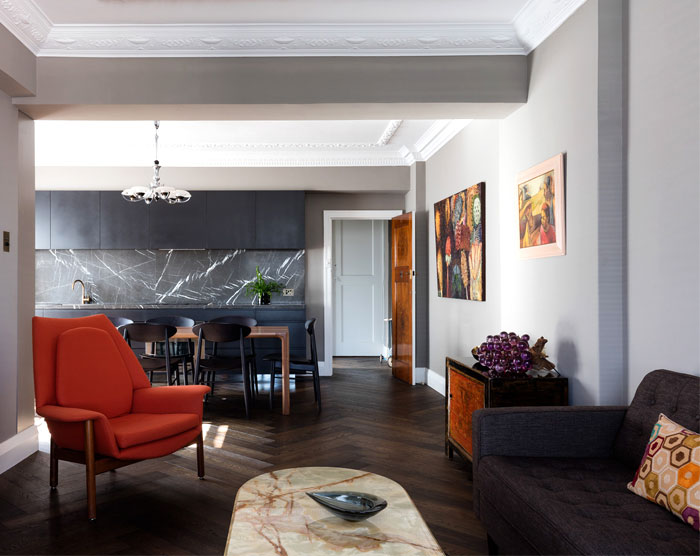 The kitchen sustained in the trendy dark colors, and innovative materials and fittings are not only functional but also very inviting and stylish. The dark marble counter top and paneling together it the minimalist black cabinet is elegantly underlined and vitalized by the trendy brass zinc and the vibrant colors of the painting that adorns the wall of the dining zone impressive with its functional simplicity.
In the cozy living room, the same eclectic mixture of vintage romance and modern materials and solutions is spiced up by bold fur additions and elements – carpet and upholstered chair.
The bathroom is a delight for the senses – here we find again the fashionable brass elements supplemented by the juxtaposition of dark colors and fresh green details and ceramics. And of course the bedroom – inviting and stylish -with breathtaking bespoke head paneling, which represents the power of the storm in delicate textural context supplemented by clever functional elements. Actually, under serious consideration and observation, the apartment offers surprising combinations not only between the vintage elements and the latest modern tendencies but also between delicate minimalism and rich, playful design.