Located in the Marais, the old quarter and fashionable Paris, the apartment that architect Margaux Beja has refurbished preserve the history and tradition. An attic of 50 square meters that emits all the charm collected over time, since it was built in the eighteenth century.
The roof beams are the red thread of the project: consolidated and stripped to leave their presence appeared in every corner of the house. Wood is the most common material; shelves and furniture give the space a warm, rustic appearance. "In every project I try to use the materials in their natural role because I believe that give the rooms a special touch of elegance." The furniture in solid walnut on the wall contrasts with the glazed black steel industrial style that separates the bedroom from the living area. The bedroom is small while the living – kitchen, dining and living area – is more spacious and airy.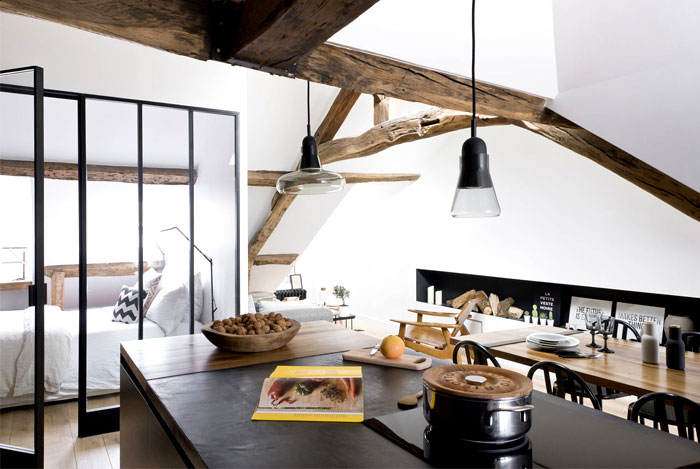 Bright white walls are allowing light, through the small windows on the back of the room and covering skylights, to penetrate optimally. Do not miss the dark tones: black Spin Light by Lucie Koldová and suspension lamp designed by the Bouroullec brothers for Flos. The Diz chair by Sergio Rodrigues for Espasso and Hay Mags modular sofa make pleasant moments of relaxation while the shelf, a black cut in the wall, is a useful space-saving device. The result is a small loft that combines comfort and elegance.