IN HAUS HAIR is located at Dazhi residential area, Taipei City, Taiwan. This design has limited space ground floor with attic totally, seven seats only.
For backward-looking and limited space reasons, we are lucky to have an opportunity to work with the chief hair designer Haus Lee to make an operation more efficient at IN HAUS.

Things go better with two stories
This design is a two-story layout, as a standard hairstyle design space on the ground floor and the attic are for customers who need to have a hair care treatment or privacy.
Seamless haircut operation
All of the hair designer's tools should be stored and categorized orderly. We get them in cabinet trolley for moving efficiently on the opposite side of the barber chair underneath the staircase makes everything feasible. To open the slide doors at ground floor to get all tools will be eased. Having pulled out the sliding doors could find a concise pantry to serve coffee and tea.

Entrance for brighter shine
Porch in this design is used to introduce the sunshine and shade.
We use every inch of space
We have to go through all details for various requirements of professional hair designers for a tiny space and make all necessary functions were equipped and run smoothly.

More than Hairstyle Design
We planned for a lounge for customers waiting; this area is somewhere to display hair treatment information and product, read magazines or have coffee here. It is also a buffer for clients to reduce the tensions of urban life rhythm. That's why we say it's not just only hairstyle design.
Attic – Extending service
The attic is for customers who are in need of hair treatment service or privacy. Partially paved transparent floor to give ground floor light & shadow from the light off the ceiling. This level is robust enough, makes no embarrassing event before though its transparency.
This design is for a fresh maker
Having put in real of this design, wins profound recognition by owners, Chief hair stylist HAUS Lee, he thinks this design is not only good in conjunction with the hair styling operation but also make customers feel at home.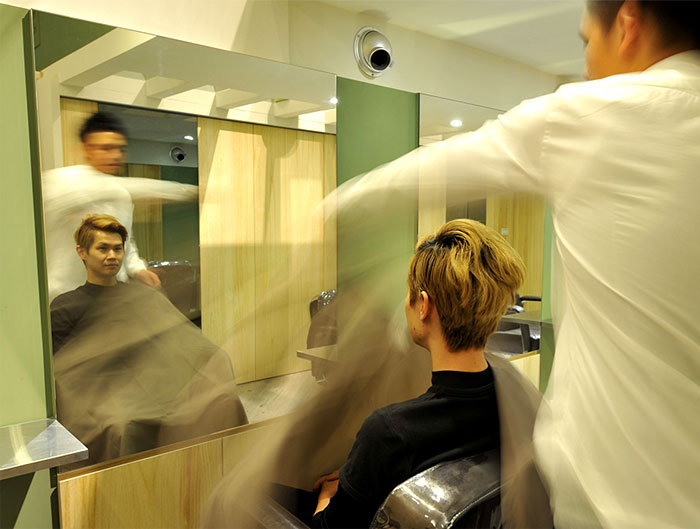 Location of the project: Taipei city, Taiwan
Category on Retail Design Blog: Store Design
Name and website of photographer: Frank Fang
Name of contact person: Kuan-Jui Fang
Name of designer or designer office: Hisn-Pei Chiang, San Gong Design
Designer or designer office based in: Taipei city, Taiwan