This trendy apartment, design project created by PS Architects is located in Sofia, Bulgaria. The premises of the apartment emanate light, ease and welcoming charm that are implicated in the light and delicate textures, in the artistic furnishing and lighting fixtures and in the overall expression of delicate harmony with playful ethnic hints. Perhaps this expression of ease in the dеcor composition comes from the good harmony between the architect and the owner – here what is she share in about her work on this project:
I remember very well my first encounter with the client – a young person with an unconditional easy-going attitude, dressed in jeans and a white T-shirt. We immediately became familiar. Soon after this meeting we had already started working. I couldn't believe this was happening – the project was developing fluently, with no resistance or difficulty. I have received all the trust of the future inhabitants of this home. This made me feel very responsible. My enthusiasm about the project kept increasing. There was not a single moment when I felt stressed out about making any decision. The solutions came gradually as it should always be the case when you build up one's home – the pictures kept changing as they matured, we studied topic after topic, I worked in one room, then I moved to another. In the course of time, the house developed as a space of integrity, unity, harmony. If the working process needs to be described in brief, the words to be used would be effortlessness and trust.
The space dеcor is decided in an eclectic mixture of modern urban dynamics and the warmth of graceful ethno elements and soft textures. The living premises (kitchen, dining and living zones) are merged in one free-flow open space where the abundance of natural light is reflected from the light textures and the organic material palette. The intriguingly shaped and comfy looking sofa and wrinkled chairs from the Ligne Roset – Togo, become a central focal point of the arrangement together with the ethno pattern of the carpets and the low round wooden table. The trendy designers from Studio Bouroullec had quite an impute for this interior dеcor – starting from the living room with its elegant sofa Ploum and going to the bedroom with is intriguing white lighting solution – also design by Ronan and Erwan Bouroullec. Truth be told, all the lighting solutions throughout the apartment deserve special attention and admiration.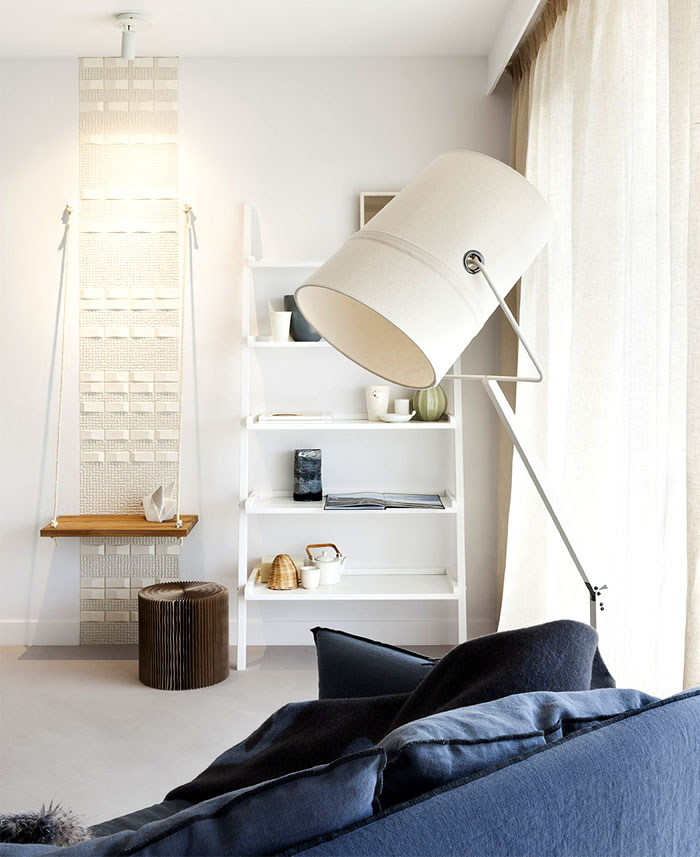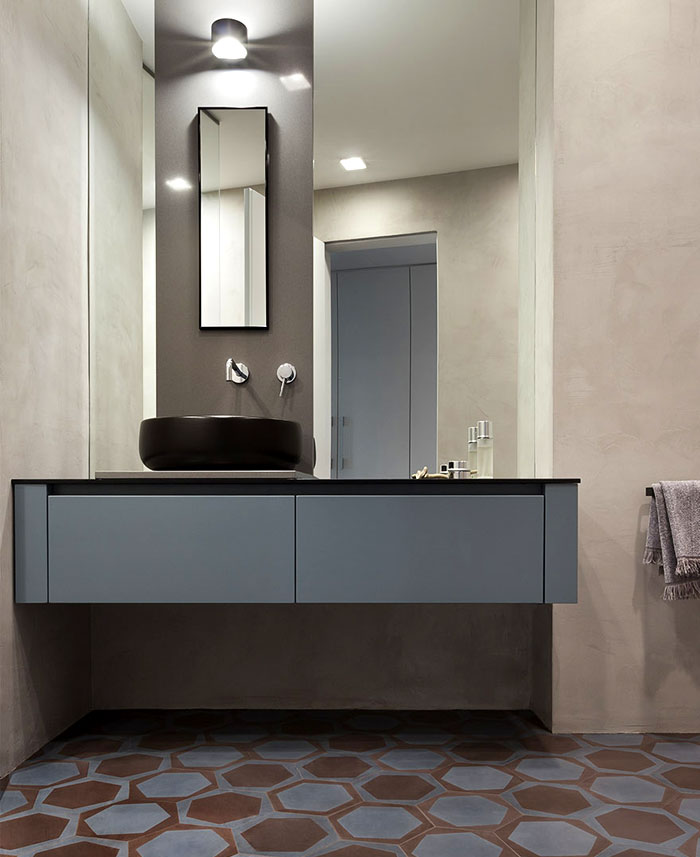 The alternation of black and white elements throughout the premises is spiced up by some beautiful artistic details like the half ceramic, half knitted bowl from Jenya Adamova or the white wall art panel from Rada Dicheva – a reference to the industrial product of Tokujin. The entwinement between renown brands and creative young designers brings a specific character to the apartment. The bathroom's minimalism is vitalized by the delicate tile's pattern a fashionable creation by Ceramiche Refin and their Fossil Collection. Photography by Vencislava Vasileva