Modernistic urban design sustained in trendy black and white combination spiced with the so-hot-right-now vertical greenery. This project of Lera Katasonova Design is created for a young couple with dynamic, city lifestyle and that's obvious by the cleverly used abstract shapes and high-quality textures, by the minimalist color composition and of course by the trendy dark atmosphere vitalized with modern pieces of furniture and fittings. The alternation of black and white objects combined with dominating rectangular square shapes brings the association with a chess board, and that is a playful twist for the modernistic urban interior.
The vast living premise unites the kitchen, dining zone and living room in one well-lit space which offers fantastic city view trough the large windows. The black tile floor gives continuity to the complex curved space, though the separations of zones are inhered by the different furniture choices: soft and comfy for the living area, and more functional for the kitchen; and by the difference in the lighting solution scheme. Throughout the apartment fashionable, design lamps and lighting solutions bring additional charm and character to the design arrangement.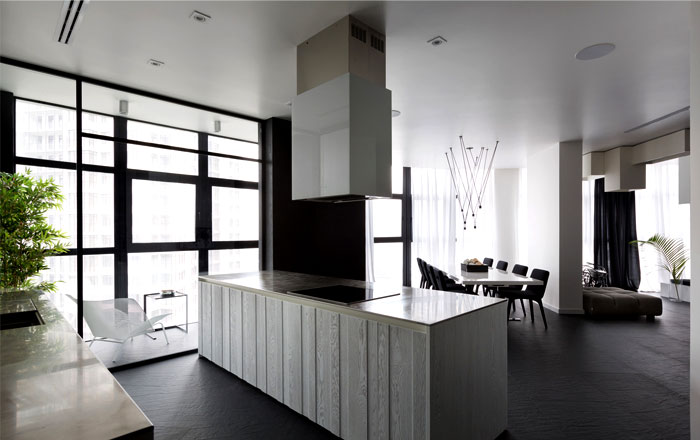 The luxury of this modern dwelling is visible not only by the trendy pieces that adorn the interior, not only by the high quality of the material palette but also by the usage of space. The public zones are vast and suitable for entertaining guests, but the privet areas are also rich and extravagant.
Large bathroom with comfy fire-wall, fantastic dress rooms for her and him, even a separated seasonal closed. The warm and stylish bedroom that has a wooden floor (in a difference of the rest of the premises in the apartment and that adds to the comfy emanation of the premise) also offers some high technology contemporary pieces like the firewall and the beautiful lamps and lighting solutions that define the character of the space. Photography by Andrew Avdeenko