The sophisticated elegance of this Australian home is composed of the architects from Robson Rak and Made by Cohen when they undertook the challenge of renovating and bringing light and ease in this Melbourne house. The heavy and regal Victorian facade of the home hides a dynamic, contemporary and stylish interior.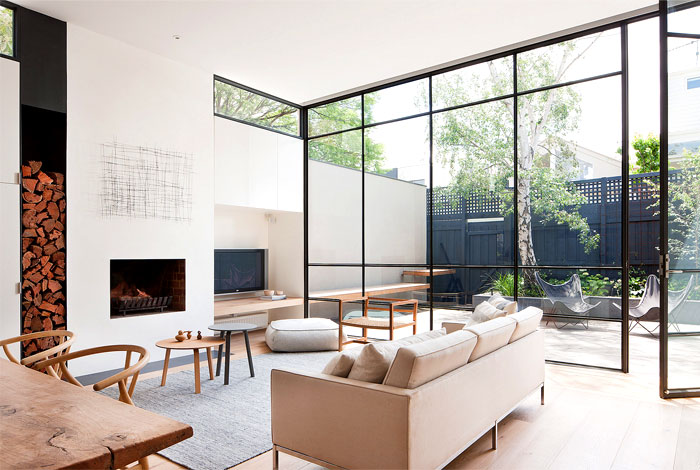 The natural sunlight reflected from the white surfaces fills the open plan living quarter boundlessly joined to the kitchen zone. This modern and quite functional arrangement benefits from the vast floor-to-ceiling windows that connect the living premise to a cute inner courtyard space. The small garden suitable for quiet and relaxing time is decorated by a green wall installation that offers untypical vertical greenery arrangement – separate unglazed pots with a variety of plants and flowers to introduce vital freshness to this small garden-like premise.
The elegant combination of the straight linear progression (mainly thin rectangular shapes), the whiteness of the architectural shell and the warm addition of light wooden cladding and fixtures is underlined by the presence of delicate black details and frames. Throughout the house, there are many bright architectural choices like the cavity next to the fireplace that is both functional (for storing cut wood) and artistic addition to the arrangement.
Although this home is not big and is welcoming and cozy, it still offers fresh, almost minimalistic takeout on modern interior design methods. The restrained color palette (only white, beige and gray hues framed by simple black additions) is refreshing and very stylish, especially when combined with high-quality materials and textures and modern Art focal points. Photography by Shannon McGrath