Designers of ZOOI studio tried to create an orderly, but in its own impressive and presentable office interior for the LETLED company. Designers had to follow brand-book company and decided to do it in the way of non-intrusive, but perceptible sequence.
Brand book of the company LETLED is based on association with the RGB colour model – technical conversion of blue, green and red, as a result of which is born white. Therefore, against the background of restrained and laconic office interior the designers have created three bright colour areas: meeting room – red, recreation area for the staff – blue and kitchen – green.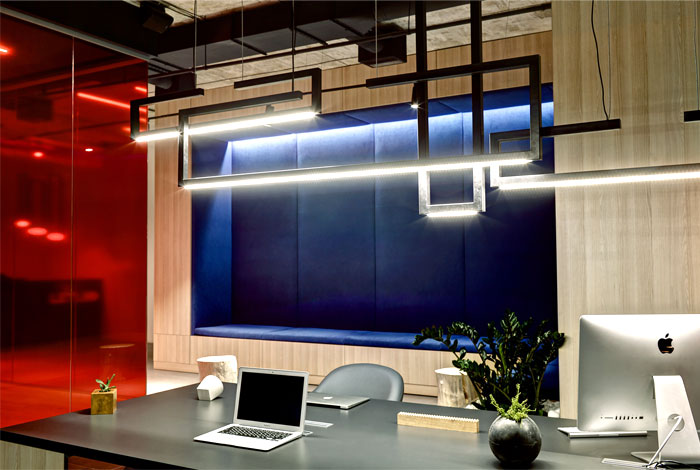 Also, the professionals of ZOOI had addressed to the theme of the transformation in the interior of the presentation zone. Here, they made possible the modification of the space and its purpose. The wall that separates the room from the workplaces is a movable rectangular block, which acts as presentation stands. Or possible to turn it to the audience and, in this case, parts of the wall already have a role as screens broadcast. Thus, this open-space can be just a part of the corridor, and can become the lecture room.
Blue module with soft seats isn't only relaxed area but also is wardrobe. The kitchen is fully gated type. It is sustained in the laconic style that is suitable for the purpose and the style of the office. The kitchen has a working surface for cutting and serving. This element is hidden from eyes and opens when it necessary. Cheerful inscription LETS EAT is combined from the logo of the company.

Most of the furniture and all the storage systems in this project were designed by the studio ZOOI. Also worth noting is the interesting fixtures over desktops, which support the overall style and concept.