Serine and artistic ambiance are created by Substance Design Studio for this fantastic restaurant harbored in Hong Kong. Harbored being the operative word, because Ocean is not only a theme and a name, in this case, is an inspiration, innovation, and a romantic game to enjoy and explore.
In modern design stylistics, a teamed public places: restaurants, bars or even hotels; are something that many architects are tempted to explore and experiment with, but it isn't always successful. In this case is more than success, is mesmerizing and enchanting experience with a well measured the balance between design elegance and ingenuity.
The oval blue premises of the two-story restaurant invite you softly into the alluring depth of the ocean chasm where the observer: though the vast panoramic windows that invite the real-life sea horizon into the experience; and the subject of the artistic sea suggestions one can experience full … keep in mind the exquisite seafood cuisine, and we imagine unforgettable time.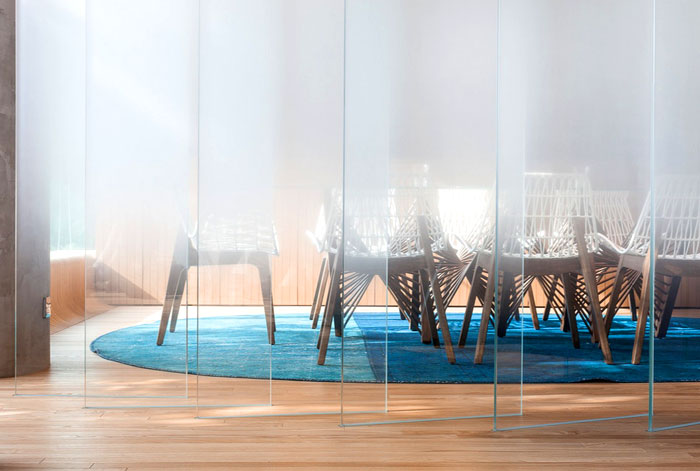 The premises are discreetly lit by hand-blown lighting fixtures, the furnishing is comfy and inviting, and the whole cavern-like smoothness of space, with the smooth curves, the ocean blue shades, and the sandy brown wooden finishes creates one very organic and welcoming atmosphere. The allusions of walking on a sandy beach are straightened by the hint of shell-like shapes in the furniture and all the artistic details colored in the hues of the sea.
There is an emphasis on intimacy, as the Ocean hosts three private dining rooms with a jellyfish aquarium surrounding each privet niches – an extra protection with anesthetic presence. The very well balanced design – with the duality of colors, the harmonic combination of contemporary and bespoke furnishing and the entwinement between dynamics and serenity ( just like the real character of the ocean) is offering truly beautiful architectural project to enjoy and explore.