The architects from YOD Design Studio worked on the interior decor of the newest EAST-Porto restaurant in Kiev, Ukraine. The spacious 400 square meters premises located in the historical city is developed under the influence of pan-Asian philosophy using the reflection of the basic elements in nature according to the East aesthetic views: stone, wood, water, fire and metal – entwined in one eclectic space that unites many cultures and influences.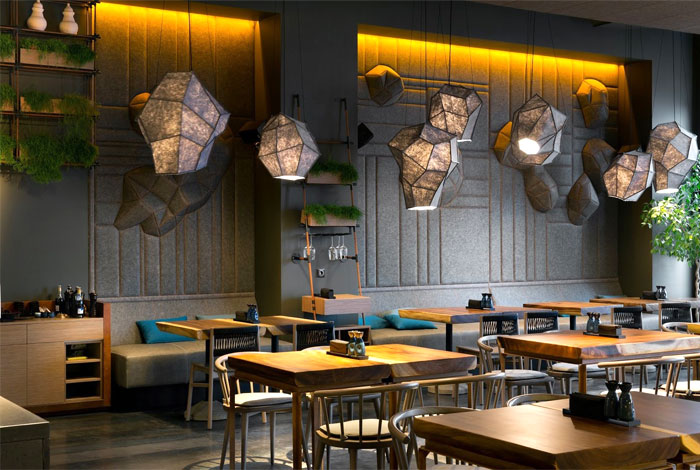 The interior space is divided into two rooms. By using the same materials in dynamic interactions, the designers underline the continuity of the idea but still allow to the premises to have a completely different character. The first room, with an open kitchen area has a communicative and active movement that welcomes the visitors, and the second with its long bar (decided in typical Asian manner) and secluded lounge areas introduces more calm and peaceful mood.
All of the spaces in this contemporary restaurant feature some unique and intriguing solution – like the impressive countertops made from solid oak brought especially from the island of Java. Another attention worthy feature is the lighting scheme of the restaurant: first it presents some very attractive and modern lamp shapes and design pieces, second thanks to precise spotting light illuminates certain areas in dynamic and conceptual way and third its color inspiration comes from the Nature elements: fire, water, earth and creates one warm and inviting atmosphere. The wine cellar, the wooden lattice that covers some of the tables, the green plants that freshen up the premises, the wood and stone elements that decorate the rooms of the restaurant – all are artistic and with high design qualities that deserves special attention from visitors and observers.
How about this bathroom – with its green marble, unique wall solutions and strangely shaped mirror? For the designers of this modern restaurant, it seems no detail was too small, no space is untouched by characteristic, magical design solutions. Working with a limited number of materials (stone, wood, water and rusty metal), the designers were able to play on contrasts and tactile sensations. Photo: Andrew Avdeenko