The rippling effect of Brasshouse's exteriors, integrated beautifully with its interior finishes, brings a grand industrial sheen to blue-chip Hawthorn East. Sun stroked metal ribbons designed by leading architecture and interiors firm ROTHELOWMAN form the outer shell of the new $12 million development, providing bold and beautiful high-density living in the prestigious suburb.
The project, located at 771 Toorak Road Hawthorn East, is being sold through CBRE real estate agents and is a product of K7 Developments. Inspired by the timeless nature of metal, Brasshouse is designed to create a space for their residents that is both modern and classic. "There's something timeless about brass, which is ideal for these homes because we're designing contemporary living spaces in a very well established location," says ROTHELOWMAN Interior Design Associate Alicia Lynch. The aesthetic of the brass ribbons that wrap around the entire building is continued throughout each apartment in small accents and finishes. The kitchen splashbacks have an excellent brass trim and the geometric bathroom spaces are balanced by warm brass tapware, complemented by a modern subway tile backdrop. The deliberate cohesion of finishes adds a sense of grandeur to the Hawthorn East address. "Throughout the entire building, there is a sense of seamless connection and a lustre which will create an address of The distinction," says ROTHELOWMAN Senior Designer Joshua Amsellem.
Property investors have their eyes keenly focused on the inner middle ring suburb, known for providing excellent value close to the CBD and the prestige of Hawthorn, Toorak and Malvern. "We're proud to work with ROTHELOWMAN once again to deliver such a grand, statement development," says K7 Developments Director Bao Nguyen. Brasshouse also offers the perfect entry point for young professionals looking to take advantage of all the area has to offer, or for downsizers looking to remain within Melbourne's east in a low convenience, luxury property.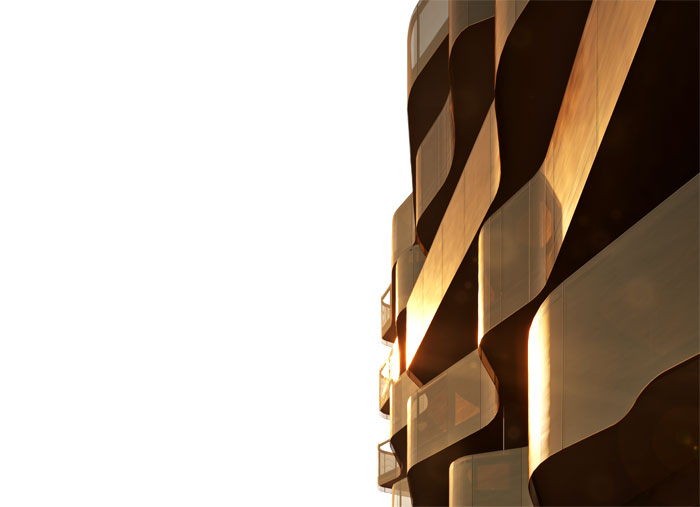 Serviced by multiple public transport options and a generous offering of nearby shops, cafes and restaurants, the apartments offer maximum amenity and lifestyle. "This luxurious ROTHELOWMAN design is perfectly suited to the prestige location of Hawthorn East, attracting a mix of owner occupiers, downsizers and investors alike," says Nic Cuni, Director of CBRE Residential Projects. A stand out feature of the development is the inclusion of a series of furniture pieces created by ROTHELOWMAN, all of which are exclusive to Brasshouse. These pieces (a desk, a bench and a television table) offer flexible use and feature the same brass trim and ceramic stone top to match the apartment interiors. Pricing for the apartments starts at $375,000 for a one-bedroom apartment, and each of the 50 dwellings comes with them own car park. "It's all about combining liveability with luxury. To me, that's the essence of Brasshouse," says Alicia Lynch.